Wellmeadow Co Working Desk Rental
Wellmeadow Consulting, Roushill, Shrewsbury, SY1 1PT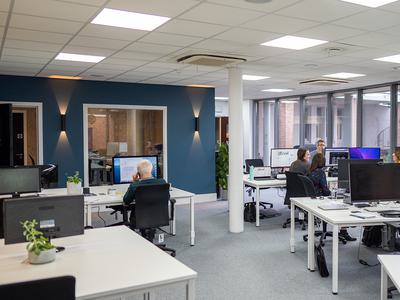 Information
Many small businesses are run from a home address, which is a good way to keep costs down. It can be a lonely place though and not always practical.
If you would like to have your own desk in the middle of Shrewsbury, then why not come and join us in our modern offices on Roushill.
We have a total of 10 desks for rent in addition to the space we use to run our consulting business from. There are a variety of businesses working here; Graphic Design, Software Development, Corporate Video Production, and Exhibition Management. We all work quietly at our computers all day long, but chat in the kitchen and have the odd social get-together.
We get a spare desk come available from time to time as people move on to larger premises, so contact us to come and have a look around and meet the crowd.

WiFi Internet, 24-hour access, Free coffee and occasional meeting room use. No parking though I'm afraid.
Opening times
Monday

09:00 - 18:00

Tuesday

09:00 - 18:00

Wednesday

09:00 - 18:00

Thursday

09:00 - 18:00

Friday

09:00 - 18:00

Saturday

Closed

Sunday

Closed