Bongo's Bingo: Bongo's Will Rock You
Next event date
Sat, 9th Dec 2023 - 18:00 - 22:15
The Buttermarket, Howard Street, Shrewsbury, SY1 2LF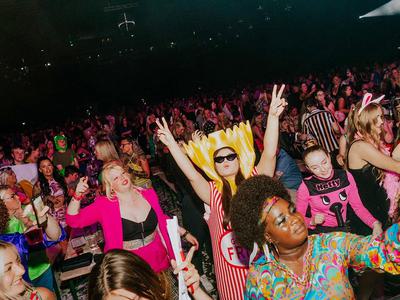 About this event
After the resounding success of our ABBA themed shows last year, we're ditching the sequins, putting away the disco balls and digging out our air guitars as we celebrate the greatest rock band of all time… QUEEN!

Bongo's Bingo presents: Bongo's Will Rock You!

This winter, we will take on the role of Freddie Mercury and take you through not just all of the biggest hits from Queen, but loads of the all-time classic rock songs that we've come to know and love.

Don't worry though, we haven't forgotten about the fact it's Christmas. In between us singing our hearts out to Bohemian Rhapsody, the shows will be PACKED with Christmas bangers and loads of special prizes.
For those yet to experience the mayhem and madness, Bongo?s Bingo is a wild combination of a captivating live show, an all-inclusive party and a heads-down game of bingo. Whilst bingo is still at the core of the show, it is far from an average trip down to Mecca.
Flamboyant costumes, rave rounds, dance-offs and plenty of audience participation are all part of the fun to be expected during a night at Bongo?s Bingo. Where weird and wonderful prizes are up for grabs and nostalgic tunes are on loop all night long, Bongo?s Bingo is the bizarre love child of everyone's guilty pleasures mixed into one.
All event dates
Saturday 9 December 2023, 18:00 - 22:15
Friday 15 December 2023, 18:00 - 22:15
Saturday 16 December 2023, 18:00 - 22:15