Burger Monday at Loopy Shrew
15/17 Bellstone, Shrewsbury, SY1 1HU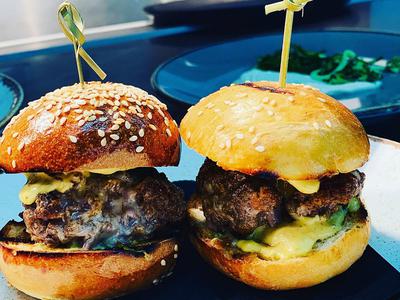 About this offer
Kick start the week with Burger Monday at Shrewsbury's Loopy Shrew, where you can enjoy a burger and alcoholic drink for £15.
*Available every Monday 12 noon - 9pm
About The Loopy Shrew
The Loopy Shrew is a family-run restaurant & bar with 12 boutique rooms in the heat of Shrewsbury called 'The Town of Flowers'.
Here you'll find modern British food using produce locally sourced and lovingly made where ever possible. Whether you're on a special date night, casual lunch with friends or Sunday Lunch with family, our menus have something for everyone.
Our bar is the main hub of Loopy's, it's popular with locals and there is always something going on. A perfect meeting point for after-work, weekend drinks or a midweek tipple. We have a wide selection of local and craft beers and our wine list has been hand-selected and tasted meaning you will be spoilt for choice.
We are very lucky to work with a team who loves what they do and has a lot of knowledge.

Alongside our very popular and vibrant bar and restaurant, we host 12 Boutique En-suite Bedrooms.
All of our rooms have been newly renovated and include all the amenities you should need, consisting of an Iron and Ironing board, luggage rack, Wide Screen TVs, Tea & Coffee making facilities, maps and tourist information and chef's hand-made treats. Choose from our Deluxe King size, Doubles and Single Rooms.

We are perfectly located right in the town centre perfect for weekends away, corporate trips, midweek treats and so much more.