Lunchtime deal at Floro Lounge
46 Pride Hill, Shrewsbury, SY1 1DN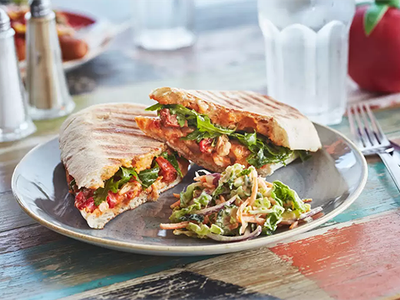 About this offer
A mug of soup and half a panini for £5.95. Available at Shrewsbury's Floro Lounge every Monday to Friday, 12pm to 5pm.
About Floro Lounge
Floro Lounge in Shrewsbury is a home-from-home, offering delicious food and drinks, all day, on your doorstep.
You can't miss the fabulous hibiscus-pink Floro Lounge, sitting proudly on Pride Hill in the heart of Shrewsbury. We've got a sprinkling of tables outside on the pedestrianised street at the front and two beautiful floors inside stretching to some cosy corners. We're named in honour of this Town of Flowers and you might detect something of a theme throughout, with different flowery wallpapers, flowery lampshades, paintings of flowers, and a flowery trellis affair behind the bar. Bloomin' lovely!
We serve a wide range of food and drinks, we even have our very own gluten-free and vegan menu. We have board games for big and small guests, toys for the really wee ones, and even refreshments for our canine guests. Old or young, big or small, just pop along and we'll look after you!