Posted 28 Feb 2022
6 inspiring women from Shrewsbury
For some inspiring International Women's Day reading, we've collected a selection of the most impressive women to have called Shrewsbury home.
Dr Alice Bunn
Engineer and Scientist
Dr Alice Bunn attended Shrewsbury High School's 6th form, before studying metallurgy at the University of Leeds, and receiving her PhD from Cambridge. After a career in environmental research and observation, in 2011 Bunn joined the UK Space Agency and led the International Charter for Space and Major Disasters. The charter forces the international community to provide satellite imagery immediately after a disaster. She explored how satellite images can be used to save lives. In 2014, Bunn was appointed Director of Policy of the UK Space Agency. Bunn was one of 10 women to win Marie Claire's Women At The Top Award in 2014, as she collected her award she said 'In a room full of testosterone, you need a bit of estrogen'.
Dame Mary Beard
Classicist
Dame Mary Beard, DBE, FSA, FBA, FRSL, is an English scholar of Ancient Roman civilisation. Born in nearby Much Wenlock, she attended Shrewsbury High School. At the age of 18, Beard won a place at Newnham College, Cambridge. Whilst in her first year, she found that some of her male peers held dismissive attitudes regarding the academic potential of women, which only strengthened her determination to succeed and developed her views. Beard is a committed and vocal feminist and is the author of 'Women & Power: A Manifesto'. "You cannot easily fit women into a structure that is already coded as male; you have to change the structure". Now, Beard is considered Britain's best-known classicist due to her frequent media appearances and is the classics editor of The Times' Literary Supplement.
Betty Webb
Code Breaker
Born at nearby Aston-on-Clun, Webb was studying domestic science at Radbrook college, Shrewsbury, when World War II began. She joined the Auxilliary Territorial Service and, being fluent in German, was sent to the Government Code and Cypher School at Bletchley Park. Here she worked with Major Ralph Tester to register undeciphered Enigma messages, which she was later informed were communications between members of the SS and the Gestapo discussing the beginnings of the Holocaust. Webb saw out the war in the Pacific, at The Pentagon, before returning to England and working for the Territorial Army.
Mary Webb
Novelist and Poet
Romantic poet and novelist Mary Webb was born in 1881 in the nearby village of Leaton, before moving to Meole Brace on the outskirts of Shrewsbury at the age of 21. Webb's first published writing was a five-verse poem, written on hearing news of the Shrewsbury rail accident in October 1907. Her brother so liked the poem and thought it potentially comforting for those affected by the disaster that, without Webb's knowing, he took it to the newspaper offices of the Shrewsbury Chronicle, which printed the poem anonymously. Mary, who usually burnt her early poems, was appalled before learning that the newspaper had received appreciative letters from its readers. Heavily inspired by the surrounding Shropshire countryside, Webb's writings received little recognition during her lifetime, although her most famous novel Precious Bane saw her awarded the Prix Femina Vie Heureuse. Posthumously, Webb's works became best-sellers thanks in part to Prime Minister Stanley Baldwin naming her "a neglected genius". A bust of Mary Webb can be seen in the gardens beside Shrewsbury Library.
Barbara Wylie
Suffragette
Barbara Wylie was born in Shrewsbury in 1861 and became a prominent figure within the women's rights movement. Wylie joined the Glasgow branch of the Women's Social and Political Union, which was later labeled as suffragettes. She was very much a part of the militant actions and engaged in many social settings where she gave speeches and rallied marches, and her house was safe haven for those in the movement. Wylie was a close friend and ally with Emmeline Pankhurst, and supported her many times throughout her involvement with the movement. On 22 May 1914, when acting as a bodyguard to protect Pankhurst from being arrested at St. Andrew's Hall, Glasgow, Wylie was hurt and ultimately arrested. When Pankhurst passed away in 1928, Wylie was one of her pallbearers. In 1913, Calgary, Alberta, Wylie gave a speech which became the one she was known for; "Abandon ladylike constitutional methods. Don't be docile, don't be ladylike. Don't dread being conspicuous. Now is the time for deeds, not words".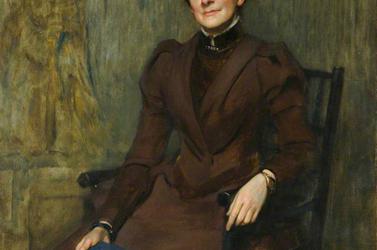 Marion Kennedy
Scholar
Marion Kennedy was the second child of Janet and Benjamin Hall Kennedy, headmaster of Shrewsbury School. Born too early to take advantage of women's higher education, Kennedy was educated at home. The family moved to Cambridge in 1867, where Kennedy became involved in reforming liberal views. The improvements in women's rights were strongly supported by the family, and early students to the newly opened Cambridge Women's Colleges took their exams at the family's home. Kennedy herself generously financed and was executive secretary of the Association for Promoting the Higher Education of Women in Cambridge which became part of Newnham College, where Mary Beard would later attend. She argued for a change to the college's institution to ensure the students had real power over the future direction of the college, which remains in place to this day.