Travel Information
Shrewsbury is nestled in the county of Shropshire, on the border of North Wales and neighbour of Cheshire, Staffordshire, Herefordshire and Worcestershire. Shropshire is approximately 3 hours from London, an hour from Manchester and 40 minutes from Birmingham.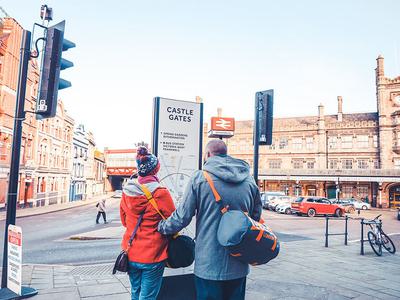 Travel by rail
The 167-year-old train station is based within the centre of town, below Shrewsbury Castle. The station is serviced by trains from around the UK, many services to Wales start at or pass through Shrewsbury station, which is why the station is known as the 'Gateway to Wales'.
From Birmingham, Manchester or Chester the journey is around an hour or less (on a direct train) and there is a direct service between Shrewsbury and London.
Plan your journey with West Midlands Railway and National Rail journey planner.
There is a taxi rank outside of Shrewsbury station.
---
Travel by car
If you're planning a road trip to Shrewsbury you will need to use the M54 / M6 network or the A49, A5, A53, A458 if approaching by A roads. There is parking a plenty in centre of Shrewsbury town.
Car parks
Shropshire Council car parks in Shrewsbury are priced in bands; the further from the centre of the town, the cheaper the car park. You can stay for as long as you want in the car parks or on-street and they are priced per hour (there is a time limit for stays in Frankwell Riverside, due to flooding risk).
Disabled parking
Shrewsbury has designated on-street parking spaces for disabled badge holders on:
Shoplatch - SY1 1HF
Castle Street - SY1 2BQ
St. Mary's Street - SY1 1DS
St Mary's Place - SY1 1DZ
Claremont Street - SY1 1QG
Roushill - SY1 1PN
Beeches Lane - SY1 1TZ
Princess Street - SY1 1LP
Dogpole - SY1 1EN
Parking is free if a badge is displayed.
Normal car parking charges apply for the designated disabled parking spaces in Raven Meadows multi-storey and in Abbey Foregate car park.
Some Hackney Carriage taxis are wheelchair accessible. Wheelchair accessible buses operate on all three Park and Ride routes. Normal charges apply.
---
Travel by Park and Ride
There are three Park and Ride sites in:
Harlescott - SY1 4HA, closes at midnight
Meole Brace - SY3 9NB, closes 15 minutes after the arrival of the last bus
Oxon - SY3 5AD, closes 15 minutes after the arrival of the last bus
Parking is free and the return bus fare costs £2 for adults, concessions are half-price (with a concessionary bus pass or Shrewsbury Sixth Form / Shrewsbury High School student card).
Buses run every 20 minutes between 7.20am and 6.20pm on weekdays and Saturdays 8am-6.20pm.
For more information on the park and ride services, visit the Shropshire Council website.
---
Travel by taxi
If you're coming for a night out in Shrewsbury, don't forget to book your journey home to avoid long waits.
Go Carz - 01743 441144

Star Cars Travel - 01743 353535

Taxi-Now - 01743 818283
---
Travel by bus

Until October 31st 2023 all bus services within Shrewsbury and Shropshire are £2 per trip. You can find a map of all routes and services within Shrewsbury here.
Travel by bus and coach is stress-free and cost-effective. For information and timetables call the Shropshire Travel Line on 0870 6082608, or use the online planner.
Information is also available from National Express (08705 808080) Travel Line Midlands (0870 2002233) and Severn Dee Travel (01691 681010).
---
Group and coach travel
Since 2012 Shrewsbury has retained a Coach Friendly Award by the Confederation of Passenger Transport (CPT). Shrewsbury partners have continued to work with CPT to improve the coach offer and facilities, which included adding additional coach drop-off points.
Discover more in our Shrewsbury Group Travel Brochure
Coach parking
Coaches can park at Abbey Foregate car park (13 coach / HGV bays) and Frankwell car park (5 dedicated coach bays). Parking for coaches is free although charges may apply during busy events, such as the Flower Show.
Frankwell Coach Park - SY3 8HQ
Abbey Foregate SY2 6AH and turn left at the Car Park sign (postcode is Shropshire Wildlife Trust)
Coach drop-off points
There are coach drop-off points at Frankwell opposite St. Chad's Church at the main entrance to the Quarry Park, Shoplatch, and Dogpole.
Frankwell Coach Park - SY3 8HQ
St Chad's Terrace - SY1 1JX
Shoplatch - SY1 1EB
Dogpole - SY1 1HF
Shrewsbury is a medieval town with narrow streets, which could make access by large vehicles difficult. For advice on access, speak with the staff at your planned destination or contact the Parking and Transport Office on 01743 356628.
---
Travel by air
Jet-setters planning a trip to Shrewsbury can land at Birmingham, Liverpool and Manchester, which are all an hour away. Birmingham and Manchester airports are connected to a mainline rail network.