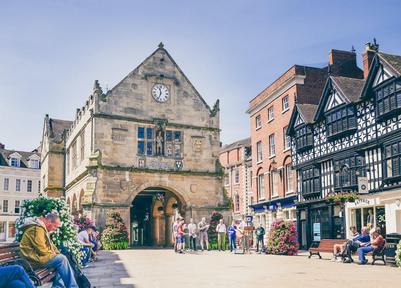 Get in touch with us
For enquiries about Shrewsbury please find the most appropriate person to contact in the details below.
Original Shrewsbury and Shrewsbury BID

The Original Shrewsbury website is owned and managed by Shrewsbury BID.
If you would like to add your events, offers or job vacancies, or would like a business profile on the Original Shrewsbury website, please visit this page to find out more.
For more information about Shrewsbury BID, visit the Shrewsbury BID website or contact the Shrewsbury BID team:
Telephone: 01743 358625
Email: info (at) shrewsburybid.co.uk
---
Press enquiries
For press enquiries about Shrewsbury, please contact the Shrewsbury BID PR team:
Email: PR (at) shrewsburybid.co.uk Shrewsbury BID
---
Visitor Information Centre

For Visitor Enquiries, guide books, gifts, tickets and tour guides, please contact the Shrewsbury Visitor Information Centre in the Shrewsbury Museum and Art Gallery: Shrewsbury Visitor Information Centre The Square Shrewsbury SY1 1LH

Telephone: 01743 258888
Email: visitorinfo (at) shropshire.gov.uk
---
Shrewsbury Tourism Association

Shrewsbury Tourism Association is the volunteer-operated organisation responsible for promoting tourism in Shrewsbury, along with the production of the Shrewsbury Town Map and Brochure.
If you would like to become a member of the Shrewsbury Tourism Association or would like to advertise in either publication, please contact:
Telephone: 01743 369741
Email: info (at) shrewsburytourism.co.uk