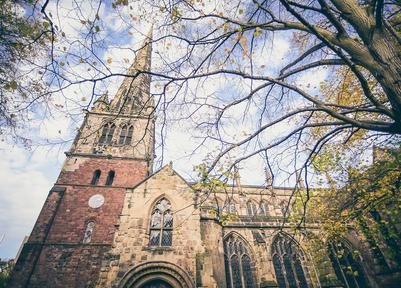 Anglo-Saxon Timeline
The Anglo-Saxon period was one of great upheaval in Shrewsbury. Beginning life as 'Pengwern', the capital of the Kingdom of Powys, the town was seized by Mercia in 778. This was the beginning of Shrewsbury's geographical importance, and centuries of alternating between Welsh and English ownership.
778
The Angles, under King Offa of Mercia, take possession of Shrewsbury from the Kingdom of Powys
871-886
In response to the westward invasion of Viking raiders, King Alfred of Wessex ordered defences to be constructed around important Anglo-Saxon settlements, Shrewsbury being one of them.
881-918
Ethelred II (reign 881-911) and his consort Ethelfleda (reign 911-918), eldest daughter of King Alfred the Great, ruled West Mercia and built a fort at Shrewsbury
901
Shrewsbury is first mentioned in a charter: 'acta es, . . . in civitate Scrobbensi'
912
St Alkmund's Church was founded by Ethelfleda, eldest daughter of King Alfred the Great
960
King Edgar the Peaceful refounded St Mary's Church and St Alkmund's Church as a college