Posted 25 Oct 2019
At home with Shrewsbury artist Linda Edwards
Linda Edwards' eye-catching designs of Shrewsbury buildings have found their way into many of our homes – on tea towels, mugs and prints. You might also recognise them from the covers of the town's My Shrewsbury magazine. Katy Rink visited the artist at home in Quarry Place.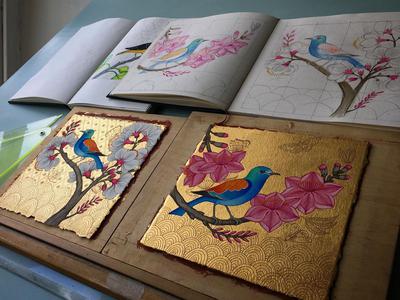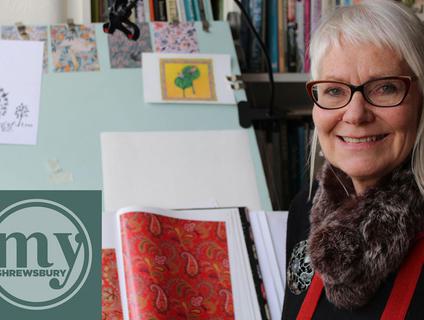 Born in Zimbabwe, where she lived until she was four, Linda Edwards grew up on Teesside in the North East of England. Her father was an accomplished draftsman, who ran an engineering company and would bring home old plans for Linda to scribble on the back of. But it was her summers with her gran by the sea, crafting rag rugs, sewing and crocheting that really ignited Linda's creativity.
She decided against going to Art College and instead studied Geography as one of the first 25 women at Sidney Sussex College, Cambridge University – a dizzying time for a girl of rather limited experience! She spent a few years travelling the world with her husband's job – he was a coffee trader – and looking after her two small children, with sojourns in London, Greece, Germany and Kenya.
Her relationships with Shrewsbury began with a house. Over a quarter of a century ago, she fell in love with a Georgian building (part of the former maternity hospital) on Quarry Place and moved in with her family. When the marriage broke up, Linda was determined not to lose her home.
"Everything I have done has been about keeping this place, and giving my two children a good start in life," she said.
With no formal training, Linda decided to go all out for a career in illustration. It was either that or apply for a job as a secretary and park her creativity.
That she chose the right path is evident from the moment you walk into her lovely home, crammed with evidence of her talent; it sings out of every corner, from the pretty, enamelled teapots featuring Linda's designs to the more recent, enlarged prints of her newest and enormously successful venture Sunny Side Art.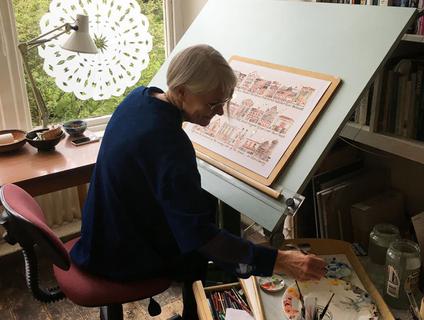 Her workroom is the old operating theatre – previously lead-lined to catch the blood. The same light that once guided surgeons' hands now falls upon Linda's canvases, enhancing the dazzling colours and gold leaf with which she frequently embellishes her art. It pours in through giant windows overlooking Linda's beloved garden backing on to Quarry Park. If there are ghosts, Linda says, then they are kindly.
"People tell me they were born here, all the time," Linda explained. "It has such a lovely, happy atmosphere."
Linda is an artist who resists categorisation. Currently, she is concentrating on her first love – painting whimsical birds and paradise gardens with gold leaf; next there is Linda the children's book illustrator of the ubiquitous Usborne Children's Picture Atlas and Children's Bible; then Linda of Goebel decorated teapots and Clare Maddicott greetings cards designs; finally, there is Sunny Side Art, which she runs with partner and musician Nigel Elliott, producing much-loved Shrewsbury and Shropshire art, gifts and cards.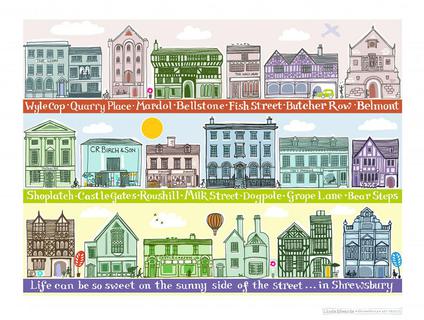 Linda's Sunny Side Art designs have a warmth and comforting familiarity that captures the spirit of our town and its people. Hidden in her illustrations are eccentric and recognisable characters – Justin the juggler, who practises for three hours at a stretch under Kingsland Bridge, is in almost every one.
"People buy it because he's in it," Linda laughed. "It's becoming a case of spot Justin.
"We have been so surprised by the tremendous response to Sunny Side Art. I think it's so much to do with the character of our wonderful town. People are so proud of it and want to celebrate and share their enthusiasm and love for the place with others, near and far."
There have been talks with major retailers over the years, but Linda prefers to keep her venture close to home.
"We don't want to go into mass production. It's got to have heart and soul," Linda said.
There is a naivety to Linda's work – a kind of childlike wonder in the friendly, curvy lines of her shopfronts, informed by her interest in tribal and folk art: "It's that freshness that I like," Linda explained. "Making something and not worrying if it's perfect. It's more direct. Maybe it comes from not being trained. I've never developed very sophisticated techniques but it works for me."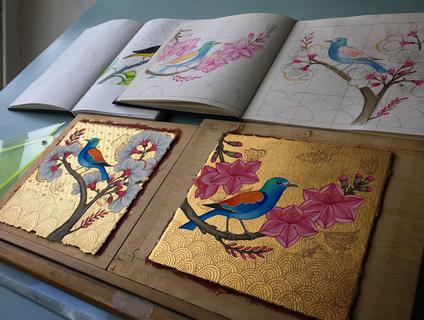 Linda' paradisiacal paintings of birds and animals, set in jewel colours with gold leaf, are selling very well in galleries across the UK, with recent exhibitions at Art&York. They have been selected for exhibition at the Royal Watercolour Society Contemporary Watercolour Competition for several years running and in 2017, she won the competition's Dry Red Press award. Her Open Studios events are always tremendously popular in Shrewsbury.
Keep an eye on Linda's websites and Facebook pages for details of future exhibitions:
https://www.lindaedwardsart.co.uk http://www.sunnysideart.co.uk/
---
My Shrewsbury magazine
My Shrewsbury is our town's dedicated, bi-monthly local magazine, packed with quirky features about personalities, places and events and showcasing the very best local writers, artists and photographers. It has a bold aim to be the best hyper-local magazine in the country and always loves to hear from readers!