Posted 18 Jun 2020
Shrewsbury's seven bridges
A town that is looped by a river is always going to have plenty of bridges and inevitably water levels are a hot topic. Shrewsbury's biggest bridges are the English and Welsh bridges which are gateways into town.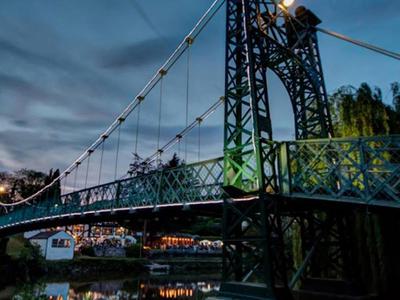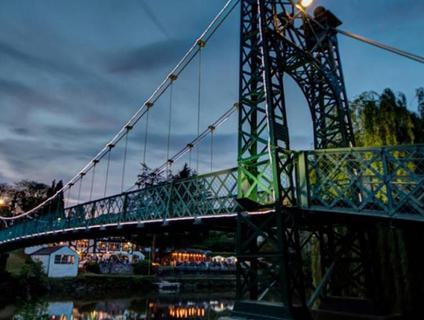 The first English bridge was medieval and designed for packhorses, its replacement came in 1769, but this was later altered again due to changing water levels. The present bridge is a 1926 masonry arch viaduct.
The Welsh Bridge is its counterpart on the other side of the town. Despite its name it stands on English soil, it is simply closer to Wales. It is a Listed Building, Grade II and connects the area of Frankwell with the town centre.
Frankwell Foot Bridge is a cable-stayed steel box girder bridge supported from a single concrete tower. It connects the Frankwell Car Park to the Riverside Shopping Centre and appears to bounce as you cross.
The Porthill Bridge connects Porthill with The Quarry and the town centre and provides easy access to the Boathouse pub. The 10ft wide suspension bridge also experiences significant vibration, even when only a few people are crossing it, which is quite an experience when you're leaving the pub!
We think the Kingsland Bridge must be the cheapest toll bridge in the land - at just 20p to cross. It was constructed by the Cleveland Bridge & Engineering Company, who also built the Victoria Falls Bridge. It is known locally as the Penny Bridge.
Built in 1880, Greyfriar's Bridge replaced a ferry boat crossing between St Julian's Friars and Coleham, relieving some of the congestion on the narrow footpaths of the English Bridge. It is constructed of two lattice girders of wrought iron on piers of solid masonry and a concrete foundation.
Castle Walk Footbridge was the first pre-stressed concrete bridge in Shropshire (built in 1951). It has a balanced cantilever construction, with two cantilever sections and a central suspended span and is 150ft long. The bridge links Castlefields with the Cherry Orchard and Underdale part of town.
The Telford Way Bridge is a double cantilever and suspended span type bridge in pre-stressed reinforced concrete. The bridge is 298ft long with pier foundations sunk to 18ft below the river bank level. It carries the A5112 Ditherington to Monkmoor link road.
Shrewsbury's Railway Station Bridge was built in 1838 to a design by Robert Stephenson and Joseph Locke. It is a double-arch iron railway bridge and carries the Shrewsbury to Wolverhampton line over the Severn. All of the iron was cast at Coalbrookdale.