E & J Jewellers
6 Wyle Cop, Shrewsbury, SY1 1UT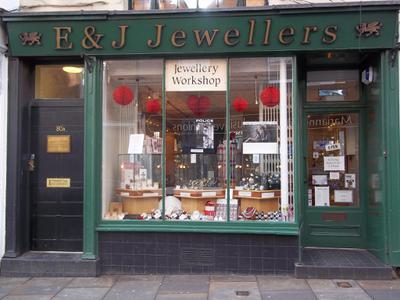 Information
E & J Jewellers is a traditional and contemporary designer jewellery workshop run by Eric and Jeanette.
Based on Wyle Cop in Shrewsbury, we are more than just any old jewellery shop. All of our passion and years of experience go into our work to create truly unique designs. Whether you're after a repair or a bespoke design, we promise to provide you with a beautifully finished trinket together with a high level of service.
Eric is our goldsmith and, with over 30 years experience of working within the manufacturing of jewellery, he's the perfect person to create that uniquely stunning piece you've been after. Back in 2001, Eric realised his dream of opening his own shop, showcasing his talents and allowing him to manufacture beautiful pieces of jewellery for a larger audience.
If you require any rethreading of pearls and beads, this is where Jeanette will be happy to give you a hand. This is her area of expertise, as well as carrying out repairs to costume jewellery. Jeanette also has a wealth of experience in this industry; she has been working in the jewellery trade for more than 26 years and opened the shop with Eric back in 2001.
Opening times
Monday

10:00 - 17:00

Tuesday

10:00 - 17:00

Wednesday

10:00 - 17:00

Thursday

10:00 - 17:00

Friday

10:00 - 17:00

Saturday

10:00 - 17:00

Sunday

11:00 - 15:00