Fat Face
4 The Square, Shrewsbury, SY1 1LA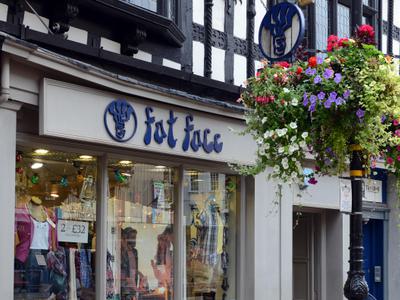 Information
It all began in 1988, two friends desperately trying to avoid working for a living and enjoying all that the French Alps had to offer.
Life was too good to end soon, but money was running short. A plan was needed! Design some sweatshirts, sell them at night, ski during the day, stick around till Spring then head for the beach. Fat Face had been born.
Fat Face offers a great range of quality clothing and accessories for men, women and kids who enjoy life outside the 9 to 5.
Opening times
Monday

09:00 - 17:30

Tuesday

09:00 - 17:30

Wednesday

09:00 - 17:30

Thursday

09:00 - 17:30

Friday

09:00 - 17:30

Saturday

09:00 - 17:30

Sunday

10:30 - 16:30