Get Your Wigle On
1-2, Princess Street, Shrewsbury, SY1 1JZ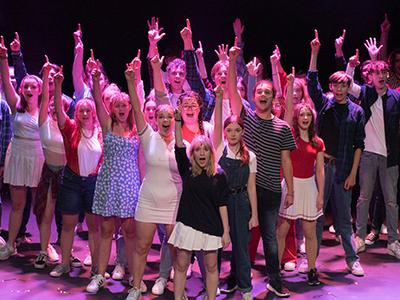 Information
In 2010 we became the first community group to take to the Main Stage of the newly opened Theatre Severn with our production of 'Little Shop of Horrors.' The production had a cast of just 12 but the audiences feedback and the interest from local performers wanting to take to the stage showed us there was a need and a want for quality musical theatre to be produced locally by local talent.
We then spent the next couple of years staging one or two productions annually before holding our first round of auditions for juvenile performers for 'The Wizard of Oz.' An advert in the local newspaper was placed for young talent to get involved and when the audition day rolled around we had a queue of over 120 eager young musical enthusiasts lining down the car park. It was clear that more needed to be done to give these passionate youngsters the training and opportunity to take to the stage... this evolved into the Get Your Wigle On that now produces multiple full scale productions annually as well as offering training, classes, community events and a safe creative space for so many.
Our team of creatives has continued to grow; beginning with just Ross and James, the company now boasts a large creative team that are able to inspire and create. We strive to keep offering the most up to date training methods, a plethora of different opportunities and to make the arts a fully inclusive and immersive experience to all.
As a company we are passionate about our local community and strive to get out and about as much as possible to spread the joys of theatre and music. We are also determined to do our small part to make theatre as 'green' as possible and strive to recycle, rejuvenate and cut down our carbon footprint wherever we can.
The future is looking ever more exciting as our team continue their own training, learning new skills to pass on to our students. We are looking forward to developing new sessions, continuing to stage fabulous productions and making musical theatre burst into the hearts of Shropshire!