Majors
10-11 Claremont Street, Shrewsbury, SY1 1QG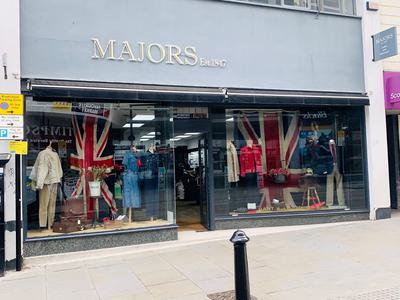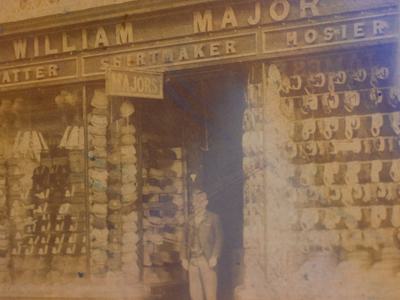 Information
Established in 1874, Majors is the oldest retailer in Shrewsbury, retailing the highest quality brands of ready-to-wear clothing for men and women.
From its origins as a purveyor of quality top hats, five generations of Majors have guided this distinguished family firm through 140 years of retail history and changing fashions. Majors' continuing success can be put down to its exceptional quality of clothing combined with excellent customer service from its friendly sales team.
When William Major opened his business as a Hatter in High Street Shrewsbury in 1874, almost every man in the land wore a hat. Top hats, bowlers, caps and felt hats were put on daily to protect the head from cold winter winds and year-round rain, when most townspeople walked to their place of work. Consequently, the business prospered and the range enlarged, larger premises had to be found. Mardol Head was the chosen site and a wider range of men's clothes were stocked. Such was the prominence of this building in those early years that he was known as William Major of Mardol Head, and the fact is recorded on his tombstone.
A bespoke tailoring department was installed on the upper floors where Mr Jones, a brilliant cutter, and his team produced suits of the highest quality, including the Mayoral robes.
William Major had three sons Arthur, Frederick and Lenard. Upon his death in 1918 his elder sons Frederick and Leonard (the latter returning from the Great War), inherited the business. They enlarged the premises, installing a Ladies' and Boys' shop on the first floor. On the death of Leonard in 1945 Frederick continued the business until William (Bill) Major, returned from a Japanese Prison of War camp. In the early 1960s, the shop moved again to 10/11 Claremont Street, to a new purpose-built shop the one you see today. Bill expanded the business to include ladies' wear and opened a Ladies' Shop in The Square Shrewsbury and branches in Oswestry, Welshpool and Chester.
His son Richard (Dick) took over the business in 1976 on the death of Bill, he continued to move the business forward in closing Chester and acquired Parker Taylor of Bridgnorth in 2000, his brother John Major now runs the business after the death of Richard in 2016.
The business continues to move forward, although we no longer tailor our own clothes, we still have our range of "Majors" branded products that reflect the quality and value that our founding father offered the community of Shrewsbury. The Website has been developed to offer an online experience that is in keeping with the traditions, knowledge and customer service that we have built up over the last 145 years.