Shrewsbury Ark Shop
14 Castle Street, Shrewsbury, SY1 2BB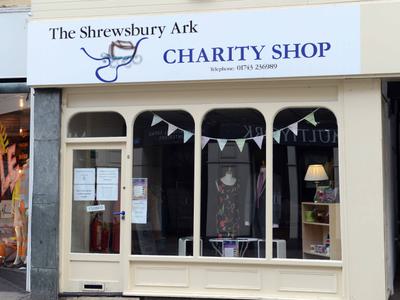 Information
The Shrewsbury Ark Charity Shop opened on Castle Street in 2014, where any clothes or household items that are donated to the Ark are either offered directly to their clients or sold with all profits going directly towards funding our ongoing services.
Anyone wishing to make donations of clothing, sleeping bags and household items for clients of Shrewsbury Ark, should deliver these directly to the shop.
Shrewsbury Ark is a drop-in centre in Castle Foregate, operated by the Shrewsbury Christian Association. The Ark offers help to homeless and vulnerable people, providing a warm and friendly refuge for those in need or distress. The Ark can provide people with immediate advice and support which helps to relieve their distress while other agencies are also on hand to offer expert professional assistance. There is a limited menu of affordable food and drink available for those in need.

Opening times
Monday

10:00 - 16:00

Tuesday

10:00 - 16:00

Wednesday

10:00 - 16:00

Thursday

10:00 - 16:00

Friday

10:00 - 16:00

Saturday

10:00 - 16:00

Sunday

Closed