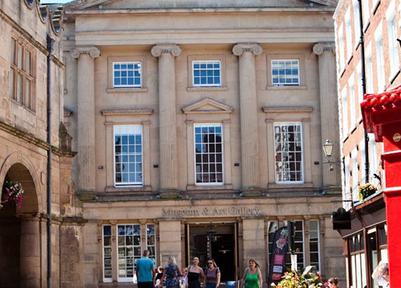 Victorian Timeline
The Victorian era was one of peace, prosperity and growth. Notable buildings were erected including Shrewsbury Museum and Art Gallery, the inaugural Shrewsbury Flower was held, Charles Dickens performed twice in the town, and Shrewsbury's most famous son Charles Darwin was born.
1848
Shrewsbury railway station was built, with the first route between Shrewsbury and Chester
1852
Charles Dickens visits Shrewsbury to perform a benefit theatrical night to raise money for the Guild of Literature and Art.
1853
Shrewsbury Museum and Art Gallery moved to Vaughan's Mansion on College Hill
1856
The Roman Catholic Cathedral is built in Shrewsbury
1856
First Shrewsbury Flower Show held just outside Shrewsbury, near the Showground at Coton Hill
1858
Charles Dickens stayed at the Lion Hotel, writing to his daughter that he was staying in 'the strangest little rooms, the ceilings of which I can touch with my hand'. He also commented that he could walk out onto a balcony and "lean over a queer old rail and look all down hill and slantwise at the strangest black and white houses, all of many shapes except straight shapes"
1858
Charles Dickens visits Shrewsbury for the final time, as part of a national reading tour. He held one performance at the Music Hall, before spending the night at The Lion Hotel
1867
The town market moved from the Square to a new Victoria Market Hall and Corn Exchange building on Shoplatch
1875
The Shrewsbury Flower Show was held in the Quarry Park for the first time, Shropshire Horticultural Society was established following this year's show
1879
The Dingle's ornamental gardens opened and a statue of Sabrina, goddess of the River Severn, can still be seen today
1881
Award-winning author Mary Webb was born in Leighton, a village south of Shropshire, before later moving to Meole Brace.
1882
Shrewsbury School moved to the workhouse building in Kingsland and Kingsland Bridge was built
1885
Shrewsbury Museum and Art Gallery and Shrewsbury Library moved to the old Shrewsbury School building, where the library remains to this day
1897
English poet and soldier Wilfred Owen moves to Shrewsbury, from his birthplace in nearby Oswestry.