Posted 20 Nov 2022
A Christmas Carol in Shrewsbury
Beautiful photographs from the filming of A Christmas Carol have lain undiscovered for over 30 years, hidden away in the family album, My Shrewsbury's Katy Rink reveals.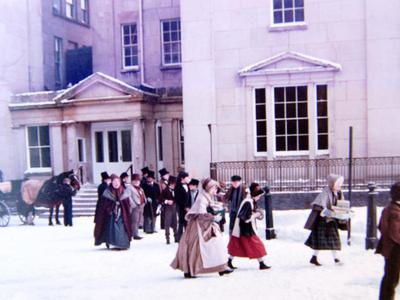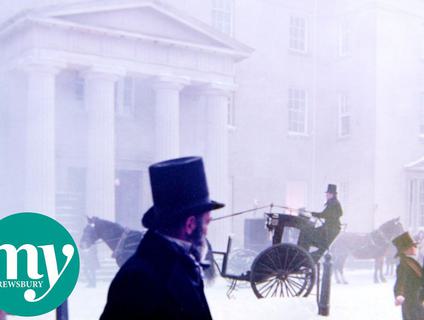 Sue Jameson was a 19-year-old student with a keen interest in photography back in 1984 – she took her camera along to the set of A Christmas Carol, following her dad Bob around for the filming.
"I hung out of windows and took some atmospheric shots," Sue remembers.
"I was fascinated by it all. It was a beautiful day and they were pumping out artificial snow. I'm sure I wouldn't have been allowed to do that today, with social media. I was fascinated by how they transformed The Parade. One minute it was beautifully sunny and the next, they covered it in misty fog to turn it into Dickensian London – it stank!
"My dad Bob (now 86 and still working as a town guide) was so pleased when they picked him. They said he had a characterful face. He was a corn merchant and a townsman. Every time we watch it, we have to freeze it on his one and a half seconds of fame. He never stopped talking about it. That's why I made an album for him. He loved going to the Gala Premiere at the old Empire Cinema (now Pizza Express), with my mum Jutta."
Bob said: "I did three days as an extra at £20 a day and food. It was lovely. They advertised locally for extras – people with interesting faces. We all know what interesting means. I had a job, running my own company, with offices in the High Street. I was dying to get in on this act. I popped a photograph of myself in one of the milk bottles outside the film crew's temporary offices and carried on to work. As I was walking up the stairs, the phone was ringing. They said 'Is that Mr Jameson?' when can you start? I still refer to it as my first, last and possibly greatest film.
"I don't deny that I seize every opportunity to talk about it. I loved it. It was a love affair between the film company and the people of Shrewsbury. We loved having them. They loved being there."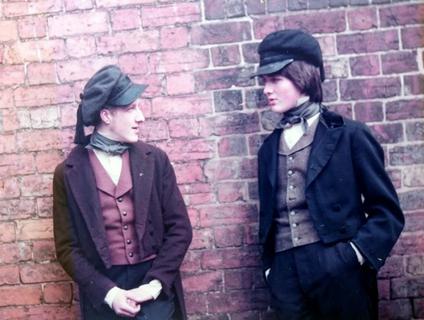 A Christmas Carol - from the extras
EVERYONE in Shrewsbury was in A Christmas Carol in 1984. Or so it seems. More than 450 people from our town were used as extras. We caught up with some of stars – including our very own 'Tiny Tim'.
"The town must have been completely deserted on the day of filming," said Anthony Walters, now 39, who played Tiny Tim.
Anthony was plucked from Prestfelde School aged just five-years-old and propelled to stardom – and no-one in Shrewsbury has ever let him forget it.
"Some people actually think I am called Tim!" he said.
His famous co-star George C. Scott did his very best to put Anthony at ease in the make-up van, but it did not go so well when they got on set, as Anthony recalls: "The director said 'action' and George came over yelling, 'Stop begging on that corner boy!'
"His complete change of personality terrified me. I froze on the spot and burst into tears. That was the first time I understood this is what real acting was. I got the hang of it after that."
Anthony lost his front baby tooth half way through filming: "The dentist tried everything to glue it back in," he said. "They managed to cobble it together. I had a person in charge of my tooth by the end."
Although the film led to appearances in Mother Goose Stories, Shining Through (1992) and Black Beauty (1994) and tours with National Theatre, Anthony had no ambition to pursue acting as a career. He returned to Shrewsbury after 15 years away and is now a father of two, married to Gráinne and running his own music publishing business Cinephonix.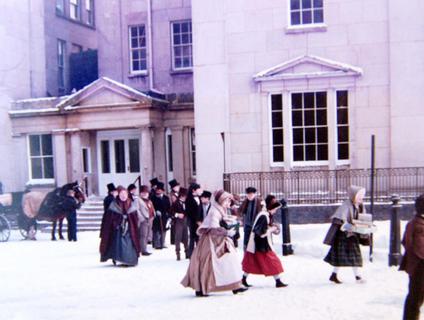 Nancy Searby, 41, played Tiny Tim's sister Alice: "It was an amazing experience being part of a massive film, being in the same room and acting with Hollywood stars and going to the premiere in London on the red carpet with the Queen in the audience!"
Nancy trained as a nurse and is now married with two daughters, aged 20 and 17 and living in Glasgow, although her parents still live in town.
Linda Phillips, 66, from Springfield, got a part after sending in a black and white photo of herself sitting by a swimming pool: "They took all my make-up off, put me in a wig and a poor Victorian lady's outfit and sat me under a bridge next to the football ground. There were lots of little fires lit with little huddles of people. Scrooge came along with the Ghost of Christmas Present and it was Edward Woodward all on stilts and really tall. There was this lovely little girl sitting by me, by the fire. We kept laughing. Someone said 'you mustn't laugh. You're supposed to look poor and serious'. That made us laugh more.
"They gave us bubble and squeak for lunch. Edward Woodward came and stood right next to me, dressed in his normal clothes. I froze, I was so shy. We all walked up to the paper shop in our costumes. Everyone was looking at us. We felt like real film stars. When you see the film you can't see me. I was so disappointed! I'm a little tiny shadow of a person. We got two free tickets to see the film though and £15."
Father and daughter duo Meg Cooke and Danny Davies both starred. Danny played a merchant in the Corn Exchange scene, arguing with George C. Scott over the price of corn, whilst Meg appeared in a dream scene, filmed at Attingham Park.
Danny, sported a splendid pair of mutton chops in the film: "When we finished, George asked me: 'shall we run your lines for your next scene?' I didn't know I had another scene. I had to quickly go and check my script.
"Filming was intense. It was all done in three weeks and was massively well organised. There wasn't a second lost. The crew would completely strip down the lighting and move to the next place and be ready to start in the next half an hour. It was by far the most efficient film I have worked on. It's a lovely film. It's ageless and it's fun spotting so many Shrewsbury landmarks."
Danny went on to star in Shine, alongside John Gielgud and Coronation Street and many television commercials, before becoming an English teacher. He is now officially retired, but still directing a local panto in Welshampton.
Danny's wife Jean recalls how Meg caused a panic after the audition, having told the casting agent she could skate: "There weren't many rinks back then. We had to go to Birmingham. Luckily, being a dancer she was coordinated and managed to stay upright. In the end they just decided to make a snowman."
Morgan Ron recalls a story told to him by his father, Dennis: "Dad got a part as an extra. He was having a break when Susannah York (Mrs Cratchit) came over to him and said 'Are those real sideburns?' Before he could reply, she pulled them hard. His eyes watered and he made a sharp exhale of breath through a pained visage and she had her answer. She apologised and said he really looked the part. They chatted for a few moments which for my dear, now departed Dad, was a wonderful experience."
Fiona Hankin, was 28-years-old in 1984: "I had to do a screen test at The Lion Hotel," she said. "I was in the 'interior Fred' scene at Crescent Lane, playing a governess to two small children. "I think I got the grand sum of £10 for what ended up, after two days of filming, as two minutes on screen at most."
Fiona works as a creative consultant in Shrewsbury, is still acting and recently played Monica in Mad Cow Production's Present Laughter at Theatre Severn.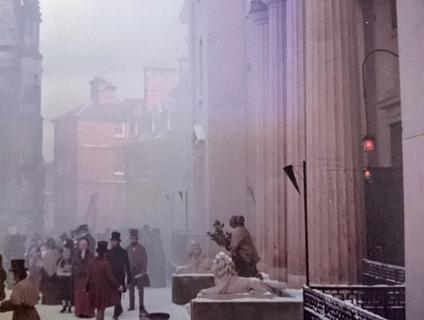 Paul Evans, of Harlescott Shrewsbury, provided the 48llb turkey for the famous final scene from his shop Molly Malone in the Victorian Arcade, along with produce for the market – earning £1,000 for his trouble. The turkey was later gifted to prisoners at the Dana.
"I went to the library research what kind of fish they would have sold in those days – it would mostly have been smoked," he said. "They came back and asked me if I'd like to be in it! I played a fishmonger under the Old Market Hall, in a big top hat and met all the stars. Susannah York had the most gorgeous eyes I'd ever seen. Relations sent me a tape of it over from America and people kept borrowing it to watch it all over town, until my best friend's wife taped over it! I was so annoyed!"
Samuel Kuhl, 43, was plucked from St Mary's School in Castlefields: "I was in a party scene where the Ghost of Christmas Present was taking Scrooge around to his nephew's house to watch the family playing Christmas games. I am visible for about a second. It was two days filming and I got paid £20, which seemed a lot to a 9-year-old."
Phil Allmark ended up in the film accidentally, after agreeing to accompany a friend to the audition during a lunch break: "Graham was not asked and even now after all these years he gets a little annoyed when even the subject comes up!" he said.
Phyllis Worley, 88, from Telford, sold meat under the Old Market Hall, swathed in an old shawl: "Edward Woodward was one of the funniest, hilarious and loveliest men you'd ever meet. He tried to balance on the stilts but fell over backwards with his legs in the air. Everyone rushed to help him. He lay there laughing his head off."
Bryony Gutman, a Modern Languages teacher at The Priory School, said: "I was an extra and managed to crash into Edward Woodward and George C Scott as I didn't have my glasses on!"
Sara Eastwood, a former Shrewsbury School pupil, said: "Right at the beginning of the movie there is a group of people singing 'On Christmas Night' and then a close up of a girl collecting money...that was me."
Lucy Moran sent in some pictures of her dad, Des Weston, a well-known dentist in town: "Dad was particularly pleased that he got a proper facial close up shot in the film as he hung some decorations. He did have a very Dickensian face!"
Of course not everyone made the cut. Monica Morison, who now works for Self-Help Africa in Shrewsbury, said: "They auditioned in all local schools in the area. I was desperate for a role but sadly didn't get a part! I was at St Winefride's School and we were told they were looking for pale, scrawny looking children. I remember sucking my cheeks in and holding my tummy for the line-up!"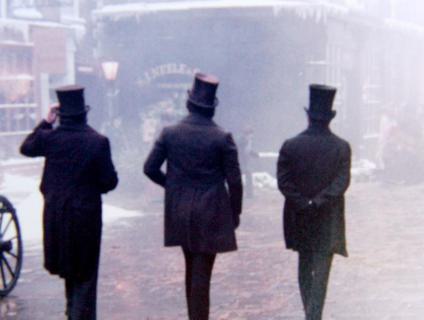 Our wonderful town crier Martin Wood was the body double for Edward Woodward during the 1984 making of A Christmas Carol. He writes…
"Lights! Camera! Action! With these three words, the might of Hollywood swung into action on a cold February day in 1984 when filming of Charles Dickens' A Christmas Carol was shot in Shrewsbury.
Shrewsbury was never in the frame to host the film - it was originally a choice of Chester or York, but the two producers decided that each would visit one of the cities and meet somewhere in the middle and so they chose Shrewsbury!
They decided to meet at The Prince Rupert hotel and it was only when one of the producers got lost in town and found five sites that would need no major work, that the town was chosen.
My part was to act as the double for the great Edward Woodward, when he played the Spirit of Christmas Present – although he had to use special stilts to reach my height!
The Square was used for the opening credits and the market place. St Mary`s Street and the Parade Shopping Centre were used as the outside of the Corn Exchange, and the place where Tiny Tim and his dad watched the boys sliding on ice.
The 'ice' was actually sheets of polythene on plywood and gallons of washing up liquid sprayed over the whole lot.
Perches house, at the top of St. Mary`s Water Lane, is where we first see Tiny Tim waiting for his dad.
The old tie shop in Fish Street was used as the location for the Cratchits house, but in the film you don't see St Julian`s, instead you see St Paul's Cathedral in the distance - amazing what they can do with mirrors.
Probably the most remembered set was the grave scene, all filmed in the new St. Chad's church. This was filmed at 2am, and it was freezing!
I was doubling for Michael Carter at this point and had to wear the same outfit as him. We looked like a couple of Dementors from the Harry Potter films. As we walked down the pathway, we came up behind the Bishop of Shrewsbury and his wife. We politely said, 'Excuse us' and his wife turned and screamed! I think the whole town heard her.
The only parts of the film not shot in town were the interior of Scrooge's office and his bedroom and the interior of the Cratchit house. The sequence of young Ebenezer at school was filmed at the PGL centre outside Baschurch and the split with Belle, his girlfriend, was filmed at Attingham Park.
It is difficult to convey in these few words what the film meant to so many people in Shrewsbury. We still have groups and individuals coming on the tours and if you would like to walk in Scrooge's footsteps then contact Shrewsbury Visitor Information Centre on 01743 258 888.
---
My Shrewsbury magazine
My Shrewsbury is our town's dedicated, bi-monthly local magazine, packed with quirky features about personalities, places and events and showcasing the very best local writers, artists and photographers. It has a bold aim to be the best hyper-local magazine in the country and always loves to hear from readers!