Posted 05 Oct 2023
From the pre-Raphaelites to the Trenches: Exploring Shrewsbury's Poetic Legacy
What do Wilfred Owen and Mary Webb have in common? To celebrate National Poetry Day, we take a look at some of Shrewsbury's most notable poetic connections.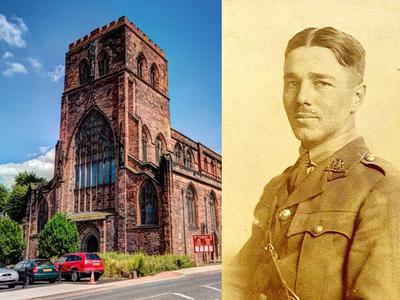 National Poetry Day is an annual celebration encouraging the British public to make, experience and share poetry with family and friends. In Shrewsbury, we're lucky to be connected to some of the most important poetic voices of the past and present.
Wilfred Owen (1893-1918)
Born in Oswestry and brought up in Birkenhead and Shrewsbury, Wilfred Owen is considered one of the most important poets of World War I. Though only four of his poems would be published during his lifetime, the posthumous publication of the collection 'Poems of Wilfred Owen' in 1920, spearheaded by his close friend and mentor Siegfried Sassoon, would see his reputation grow to possibly the best known of his contemporaries.

"Above all I am not concerned with Poetry.
My subject is War, and the pity of War.
The Poetry is in the pity."
Most school literature syllabuses feature Owen's poems, and his words are revisited annually at remembrance ceremonies across the UK. In recent decades, speculation regarding his sexuality and the nature of his relationship with Sassoon has given him renewed popularity among LGBTQ+ readers.
His life and poetry have featured in several books and films, including Pat Barker's Man Booker Prize-winning Regeneration Trilogy and recent films The Burying Party (2018) and Benediction (2021).
Owen was killed in action on November 4, 1918, just seven days before the armistice. News of his death famously arrived at his mother's door on November 11th as Shrewsbury's churches rang the armistice bells.
Shrewsbury Abbey is home to a sculpture erected in honour of Owen.
Mary Webb (1881-1927)
Mary Webb was born in Leighton, just south of Shrewsbury, near The Wrekin. A notable romantic novelist and pre-Raphaelite poet, much of her writing was inspired by the Shropshire countryside, in which she set many of her novels. Her poetry is especially noteworthy for the minute detail she observed and conveyed in the nature around her, giving her writing a richness loved by many enthusiasts.
"A Fair town in Shrewsbury —
The world over
You'll hardly find a fairer,
In its fields of clover
And rest-harrow, ringed
By hills where curlews call,
And, drunken from the heather,
Black bees fall."
When she was 36, Webb's husband Henry began teaching at the Priory School in Shrewsbury and the two moved into a bungalow nearby in Lyth Hill. From this base, Webb wrote a number of her more recognised poems, as well as romance novel The House in Dormer Forest.
Shortly after publishing this novel, she and her husband moved to London in pursuit of greater literary recognition for her works and she published a fourth and fifth book inspired by the Shropshire countryside. Despite receiving acclaim from others in the literary world, she remained relatively unknown among the general public during her lifetime.
In 1927, Mary Webb returned to Shropshire without Henry - sadly, both her marriage and health were failing. She passed away later the same year and was buried in Shrewsbury cemetery. In 2016 a bust of the author was unveiled in the grounds of Shrewsbury Library.
Webb's novels have been adapted for stage, film and television. Gone to Earth was adapted in 1950 as a film starring Jennifer Jones, and Precious Bane became a BBC miniseries in 1957 and BBC television play in 1989.
A.E. Housman (1859-1936)
Though he had never visited Shropshire, Housman made the county famous among poetry enthusiasts when he wrote A Shropshire Lad, a cycle of 63 poems that has not been out of print since first being published in 1896.
Shrewsbury makes an appearance in the poem's characteristically bleak reference to the town jail:
"They hang us now in Shrewsbury jail:
The whistles blow forlorn,
And trains all night groan on the rail
To men that die at morn."
Sir Philip Sidney (1554-1586)
Poet, courtier, scholar and soldier Sir Philip Sidney was a prominent figure of the Elizabethan age and something of a celebrity in his time. Though not native to Shrewsbury, he was educated at Shrewsbury School and a stained glass window in The Old Market Hall is dedicated to his memory.
His most famous poetic work is the sonnet sequence Astrophel and Stella.
William Shakespeare (1564-1616)
Many towns claim a connection to Shakespeare, Britain's most famous poet and playwright, but Shrewsbury researchers present better evidence than many. Research on Shakespeare's life and career reveals that his theatre troupe, The King's Men, was paid £30 to perform in the town between 1603 and 1605. As London was in the grips of the plague at the time and its theatres closed, it is very likely Shakespeare himself would have travelled and perhaps even performed with them.
Samuel Taylor Coleridge (1772-1834)
One of the founders of the Romantic Movement in England, Samuel Coleridge once preached at Shrewsbury's Unitarian Church in January 1798.
In this feature
View sculptures dedicated to Wilfred Owen and Mary Webb at Shrewsbury's Abbey and Library.