Posted 01 Jun 2023
Get afloat in Shrewsbury
Seeing Shrewsbury from a different perspective has never been easier, with countless tours and activities available to help get you out on the water.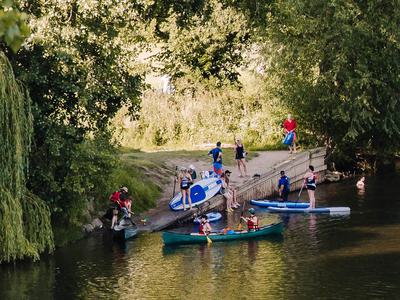 Nestled within the loop of the River Severn, Shrewsbury's history has been intrinsically linked with the waterway. For centuries the river provided protection and livelihoods for many of the town's residents. Now, seeing the river from a different perspective has never been easier, with numerous tours and activities available to help you get afloat in Shrewsbury.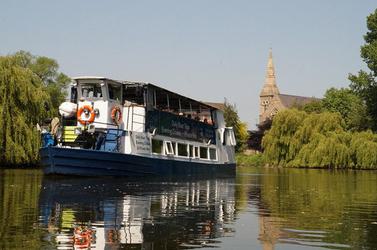 The Sabrina Boat
Climb aboard The Sabrina Boat and admire the town's twinkling lights as the captain regales you with tales of historic Shrewsbury. Setting sail from Victoria Quay, the Sabrina holds up to 60 passengers across it's three spacious decks. A range of drinks and snacks are available and table service means that the only thing passengers are required to do is sit back, relax and wave to onlookers. Regular tours last 45 minutes and leave on the hour from 10am to 4pm. The Sabrina also hosts themed nights and evening cruises, with the option of private hiring.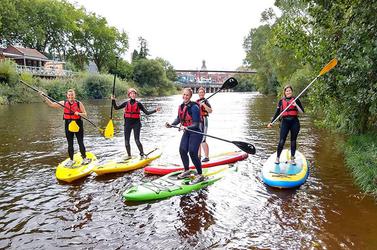 Hire a Canoe
Based in Shrewsbury's picturesque Quarry Park, Hire a Canoe offers an all-round river experience. By canoe, kayak or SUP, you can discover the Severn in style. Explore Shrewsbury's loop in a half day excursion, take a full day to travel down the river from Montford Bridge, or perhaps take an unguided 3 day wild camping trip. Their young fun and enthusiastic instructors pride themselves on providing the very best experiences and the highest levels of customer service.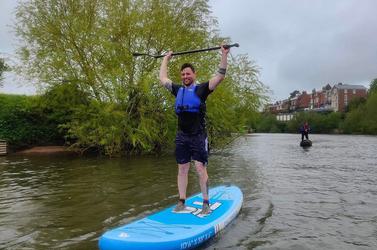 The Paddle Bros
Every weekend you can find Shrewsbury's newest addition, The Paddle Bros, at Frankwell Quay, just a stone's throw from The Quarry. Brothers Tim and Chris Harris will help you take to the Severn like ducks, with SUP hire, group bookings and 1 on 1 training sessions. Make sure to check out SUP 'n' Slice, a weekend collaboration with local indie pizzeria Dough and Oil.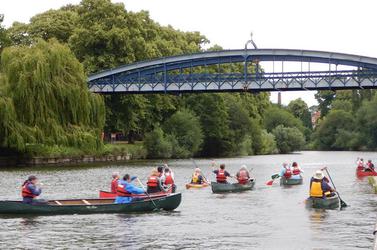 Drummond Outdoor
Drummond Outdoor offers an all round river experience, promoting the mutually beneficial relationships between town, river and community. Based in Severn Bank, they offer a chance to "Paddle into the Past". Archaeologist Dr Nigel Baker takes you on a unique, guided tour into Shrewsbury's history, exploring the Welsh wars, Vikings, floods, Victorian health hazards and more. Recently featured on Channel 4's Discovering Britain, the tour is a hit with locals and tourists alike.
Original Shrewsbury is run on behalf of Shrewsbury BID and its members, it is therefore not a complete representation of all businesses operating within Shrewsbury.
Not all businesses can be included in every feature, however if you believe you should have been included please contact content@originalshrewsbury.co.uk
If you would like your business to be involved with the Original Shrewsbury platform you can read more about voluntary membership here.