Posted 14 May 2019
Jonathan Soden: A Picture of Success
In case it has escaped your notice, there is a little gallery on Wyle Cop bringing some serious 'blue chip' artworks to Shrewsbury. We asked owner Jonathan-Lee Soden how he does it.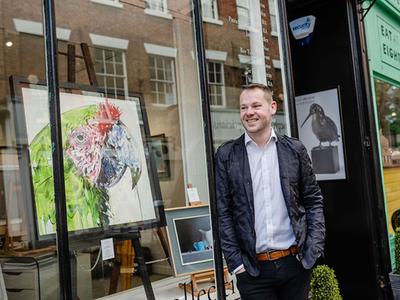 Together with his business partner Paul Corbett, Jonathan launched the Soden Gallery back in November 2017 with the intention of bringing some show-stopping modern art into the heart of Shrewsbury. They have made quite a splash in their first year, bringing a beautiful £50,000 Lowry sketch to town, along with works by Endre Röder, Claude Venard, Alberto Giacometti, Sir Terry Frost, Damien Hirst, David Hockney, Andy Warhol, Pablo Picasso and Joan Miró, along with exciting new artists such as the Shrewsbury based painter Georgina Walton.
There are sculptures too – limited edition bronzes from Rachel Talbot and a monumental owl by Carl Longworth in the courtyard sculpture gallery (don't miss it!). Local sculptor Jeremy Schrecker also exhibits his work here.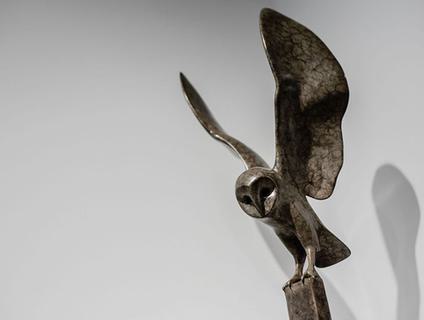 June 1 sees the launch of the newest Endre Röder exhibition. The stylised portrait painter proved so popular that Jonathan is bringing him back for an encore. There is a private view May 31.
All of a sudden, collectors and art enthusiasts in Shropshire have access to some of the world's leading artists. Even if Jonathan doesn't have what you want on his walls – he has a hotline to a whole network of dealers who might be able to source it for you. If you want a 1950s Sandra Blow original, for example, he'll get it for you.
Things are clearly going very well.
We caught up with Jonathan in his gallery, which houses an original Sandra Blow from 1971, an original work by Sir Terry Frost, a phenomenal work by Joan Miró and a Giacometti – works ranging from £7,500 up to £28,500. Not too shabby a workplace, you might say.
"The first year has been a massive success," he said. "There was a turnover in mind we thought would be good to hit – we've gone way past that. Everything we're earning we are putting back into the business. In terms of future growth – there's so many options. We could be opening another gallery in a few years' time in a different town.
"Expansion here is possibly going to happen sooner. We have a big cellar we're thinking about converting. We really like the location and wouldn't like to move, but we would like to employ staff and do more art fairs and exhibitions."
Just how has he done it in only one year? This Shropshire lad who chose not to go to university and has no degree in fine art or art history, but instead chose to educate himself visiting the major galleries of the world. What's his secret?
"It's working very closely with collectors, not just from the local area, but from far and wide," he said. "We have been over to Paris to buy pictures from private collections and are working with other collectors in London and New York.
"It's just making those connections and keeping those relationships strong. It can be very 'networky'," he admitted.
"You have to appeal to a broad spectrum of people. Some people will walk in and you can tell they don't want to be laughing and joking. They want to know how much and that they are getting a deal. They come in, they buy, they walk out. 90% of people want to feel comfortable; they are buying you. You have to be yourself."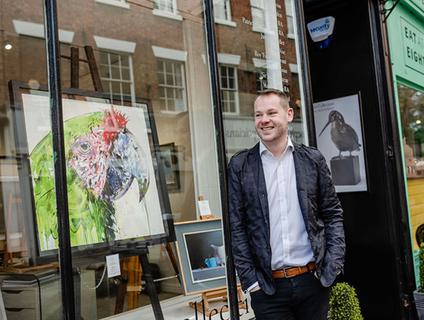 Jonathan is a people person – he can spot a serious collector from a dilettante – but everyone gets the same warm welcome. His obvious passion for art, together with an unaffected charm, is a winning combination.
"There was an Art teacher (at the Lord Silkin School in Telford) who introduced me to Gustav Klimt and it changed my whole outlook," he said. "I remember it being very bright, vivid and elaborate.
"After school, I took myself to different cities around Europe and America to see pictures by different artists. Everything I know I have self-taught. I have worked in business management and retail and in another commercial art gallery in Shropshire. That's what gave me the insight into how to translate my passion into a business."
His partner Paul Corbett, the gallery's commercial director, is a personal friend and an experienced businessman (waste management and property development). Jonathan is managing director and the public front of the business.
""We wanted to bring artwork – you walk in, you see it and you fall in love with it. My job is bringing in something slightly different you wouldn't have thought of," Jonathan said.
"We looked at different locations. It just kept coming back to us that Shrewsbury was the place we needed to open. One of my associates supplies most of the artwork to West End galleries. They were looking for galleries outside of the big cities, provincial galleries. They approached us.
"We are bringing the West End into Shrewsbury. I think it is quite special to bring some of the names we have brought. Even the big cities don't have the type of artwork we have got. There have been a lot of people who have said they know we have a Picasso, or a Dali, and word is spreading. I'm getting some followers!
"We have a good base of people who have bought a few pieces of artwork and anything that comes in next, they want first refusal. There's not a typical client. We have people in their 20s who want to buy nice things and people in their 70s who want something more fresh. It's very variable. It shows in the different genres I have in. I have a picture worth £650 next to a £19,000.
"I think people are buying art for investment nowadays – as a safe place to put their money. Especially blue chip artists such as Picasso, Dali, Miró and Damian Hirst. They have that stamp of approval from the art world that prices won't drop. They will keep them, if not increase. You still have to make sure you are buying at the right price.
"Prints can be extremely good investments. The signed limited edition (Picasso) prints are a very, very good way of owning something that's by that particular artist.
"We've been able to start purchasing. We're building our portfolio of pictures. Anything anyone wants, it might not be available straight away, but I could source it and will be less expensive than in a London gallery."
Aside from the people skills, Jonathan must surely be able to drive a hard bargain?
"It is really hard work – but there are benefits, sipping champagne with clients is one of the perks!" he laughed.