Posted 15 Sept 2014
Shrewsbury the most courteous town
Shrewsbury has been voted the most courteous town by the National Campaign for Courtesy following the launch of the Most Courteous Town Award.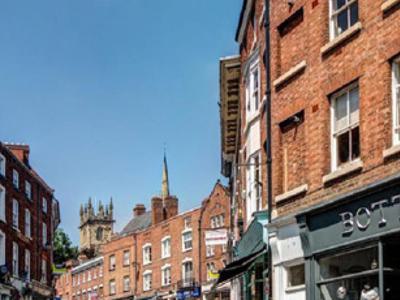 At the Heart of England in Bloom Awards Ceremony in Shrewsbury the Chairman of the National Campaign for Courtesy, Peter Foot, commended the town for its friendly approach not only to visitors, but residents also. He said: "We visited the town to see for ourselves and were delighted by the attitude of the Councils, the local police, businesses and local people. The town has a very welcoming feel about it."
Many organisations including Shrewsbury Town Council, Shropshire Council, West Mercia Police, Shrewsbury BID, Salop Leisure, and the many Festival organisers such as the Shrewsbury Food Festival & Shrewsbury Folk Festival, worked together to present a case for Shrewsbury to be considered the first recipient of such a prestigious award.
Alan Mosley, Leader of the Town Council congratulated everyone for their efforts. He said: "I am delighted, though not surprised, that Shrewsbury has achieved such national recognition. We can all be proud as this is an accolade for everyone who lives and works throughout the town."
Kirsten Henly, Shrewsbury BID Manager expressed the business community's delight in receiving the award. "It is fantastic to see businesses, councils, in fact everyone working together to make Shrewsbury such an attractive and welcoming place that people want to come to," she said.
Superintendent James Tozer, the Commander of policing in Shropshire supported West Mercia Police's involvement in the town's courteous accolade and encouraged more people to take part in helping to make Shrewsbury an even better place. He said: "Shrewsbury is a great place to live and work, and this just proves it, but things can always be better, so help us keep crime and antisocial behaviour low, and work with us to keep making it better and better."
Even the Town Crier had something to shout about, adding: "I love Shrewsbury and am so proud to have been part of this award. I am lucky to meet some fantastic people who visit the town and all say how friendly we are."