Posted 01 Aug 2022
Shrewsbury Stories
Scooped in the loop of the River Severn, Shrewsbury is a town oozing with history. Whether from the comfort of your home, whilst commuting or out and about in Shrewsbury, be transported to the heart of Shrewsbury's history Shrewsbury Stories.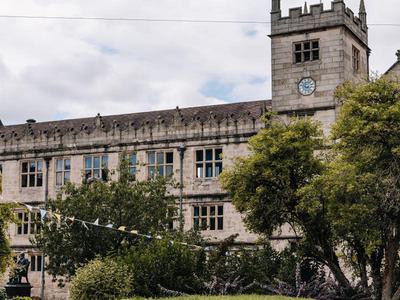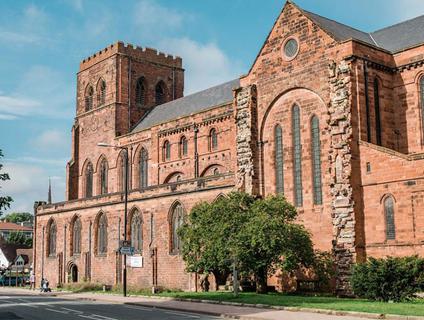 The Shrewsbury Stories is a new podcast created in collaboration with Alex Whiteley, of The Shrewsbury Biscuit.
Listen to all episodes on Spotify
Shrewsbury Abbey
Welcome to the longest tour we have made. This is the tour of Shrewsbury Abbey with Dr Nigel Baker one of Shropshire's finest archaeologists. We start you off underneath the Train bridge by what is now, Flaming Great pizza takeaway, face yourself at the abbey and hit play, Nigel will then guide you up to, around the back of and into the Abbey.
Guide by Dr Nigel Baker, Shropshire Archaeologist
Grope Lane

This is the tour of Medieval Shrewsbury's red light district, Grope Lane with one of Shropshire's finest archaeologists, Dr Nigel Baker. This tiny little space has so much history and I think, by the time you have finished this tour you will be amazed at how so much can happen in such a tiny little place.
Guide by Dr Nigel Baker, Shropshire Archaeologist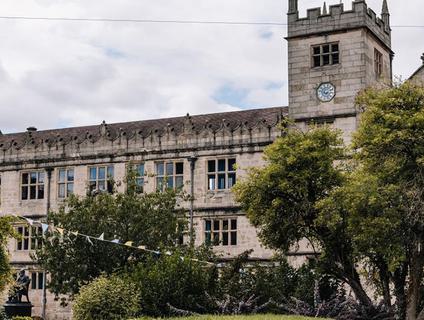 Shrewsbury Library
Welcome to our tour of Shrewsbury Library with one of Shrewsbury's most beloved tour guides, Stan Sedman. Starting at the front of the Library, Stan starts us off by explaining that this building was once actually the site of Shrewsbury School, where Charles Darwin attended when he was a child. Eventually, Stan moves inside the library and takes us upstairs. You can find the staircase to the old school rooms on the right-hand side of the library as you walk in. The staff there are friendly and will help you if you need a hand.
Guide by Stan Sedman, local tour guide
Wyle Cop and Milk Street
Your tour guide today is Dr Nigel Baker, one of Shropshire's finest archaeologists. There is so much history to enjoy on this tour that it may be easy to forget that you're walking alongside one of Shrewsbury's busiest routes in and out of the town. So please be careful and make use of the crossing too.
Guide by Dr Nigel Baker, Shropshire Archaeologist
Shrewsbury Unitarian Church
Welcome to our fantastic tour of one of Shrewsbury's most important buildings, The Unitarian Church on Shrewsbury's High Street. "Why so important?" you may ask. Well, this is the church where Charles Darwin and his family would have come to and there is so much history here to uncover.
Guide by Richard Fyffe, a member of the congregation of Shrewsbury Unitarian Church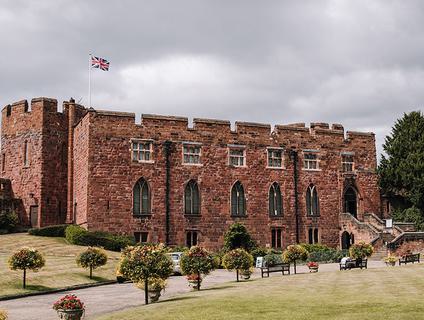 Shrewsbury Castle
Perched atop a hill overlooking the loop of the River Severn, sits the 11th century Shrewsbury Castle. Founded by Roger de Montgomery in 1074, the castle has undergone many transformations, the last one being by Thomas Telford who 'modernised' the building in the 18th century.
Guide by Nigel Baker, Lead Archaeologist at the Shrewsbury Castle excavations
Medieval Shrewsbury
Take a walk through Bear Steps, Butcher's Row, Church Street and the grounds of St Alkmund's church, and discover their medieval history. Explore the historic heart of Shrewsbury, as you're guided around some of our town's most historic buildings, landmarks and streets.
Guide by Bibbs Cameron, Vice-Chairman Shrewsbury Civic Society
St Mary's Church
Explore historic St Mary's Church, home to one of the tallest spires in England. The church dates from Saxon times and has beautiful additions from the 12th-Century onwards. Inside, the atmosphere is peaceful with the soaring stone arches giving way to the church's great treasure - its stained glass.
Guide by Robert Milton, local community officer for the Churches Conservation Trust
Old St Chad's
Old St Chad's occupies the second-highest point in Shrewsbury. The church dates to the Saxon times, around 8th century, and was known to be home to the Bishop of Mercia. Unfortunately, all that now remains is the 15th century Lady Chapel, as much of the church was demolished in 1788.
Guide by Maggie Love, local tour guide