Posted 20 Oct 2022
Shrewsbury with Where Goes Rose
This Autumn, Visit Shropshire invited Where Goes Rose to Shropshire to discover all the delights that Shrewsbury has to offer.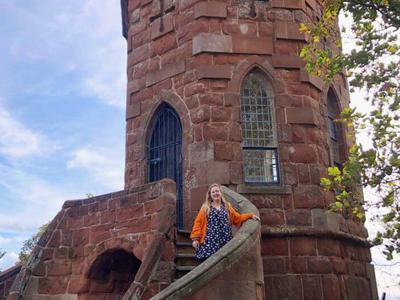 Over two days Rose, an influencer and travel blogger, explored the town's attractions and events, discovered our amazing local makers and producers, and dined in many of our outstanding eateries, read on to discover her top picks.

"I recently visited Shrewsbury in Shropshire for the first time and I was SO pleasantly surprised...Despite its quaint feel, you won't get bored in this charming Shropshire town. From market shopping to historic castles and many, many eateries, we whiled away two and a half days easily...
Shoppers will confirm Wyle Cop is one of the best places to visit in Shrewsbury. It's said to be the longest row of uninterrupted independents in the UK, to this day boasting designer clothing, jewellery and vintage stores...
The newest tourist attraction in Shrewsbury (opened in September 2022) is Flaxmill Maltings. Once a purpose-built flaxmill, maltings and temporary army barracks in WWII, it has a pioneering iron frame that inspired the design for skyscrapers. It's the building that launched a thousand skylines!
The best Asian food in Shrewsbury has to be at the House of the Rising Sun, an atmospheric restaurant on Butchers Row. Expect modern Australian cuisine with an Asian twist. Choose from the Earth, Land and Sea menus with treats like bao buns, teriyaki beef, chicken katsu and sweet potato & crayfish empanadas..."
Click here to read the full article on WhereGoesRose.com