Clogau
49 Pride Hill, Shrewsbury, SY1 1DN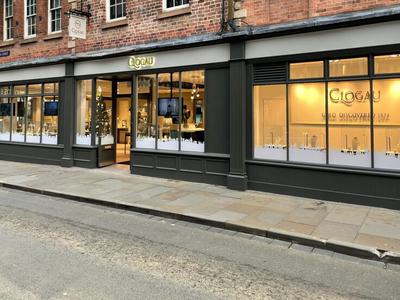 Information
Since the very first piece, we have always believed in creating the most beautiful and unique jewellery containing rare Welsh gold. For 30 years Clogau, has been chosen to mark life's most precious moments, acting as beautiful and lasting reminders of the milestones that touch our lives.
Our jewellery is distinctive due to the majority of it being two-toned. Our pieces are usually either yellow gold with rose gold detailing, or sterling silver with rose gold detailing.
Within every piece of Clogau jewellery and watch is rare Welsh gold, which is usually included within the rose gold detailing.
Welsh gold is now one of the world's most precious and sought-after golds and has been used by Royalty since the investiture of Prince Edward of Wales at Caernarfon Castle in 1911.
The regalia used (which consisted of a coronet, a rod, a ring, a sword and a robe or mantle with doublet and sash) included Welsh gold. These were later re-used at Prince Charles's investiture at Caernarfon Castle in 1969.
Within each piece of our jewellery is the same Welsh gold, creating an esteemed and unique association with the British Royal family.
Opening times
Monday

09:00 - 17:30

Tuesday

09:00 - 17:30

Wednesday

09:00 - 17:30

Thursday

09:00 - 17:30

Friday

09:00 - 17:30

Saturday

09:00 - 17:30

Sunday

10:30 - 16:30