HOBBS London
11 Pride Hill, Shrewsbury, SY1 1DQ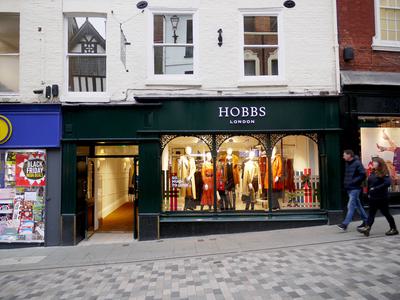 Information
Over the decades, Hobbs has evolved from a small shoe label into a womenswear brand synonymous with the best of British design. Drawing on a rich heritage yet always looking forward, our collections are designed to answer the needs of the life-loving modern woman.
In 1981, Hobbs was established in Hampstead, London. A green village in the midst of a city that never stops. It will always be our spiritual home, wherever we are in the world. Modern cuts, contemporary tailoring and effortless silhouettes, inspired by our roots are meticulously designed in our London studio and brought to life by expert craftspeople around the world.
We don't get swayed by fashion trends that come and go. We see beyond the throwaway, to seek out and create forever styles that will stay relevant. Current yet timeless, we make the pieces you'll still be reaching for in many years to come.
Our promise is quality. Our pledge is affordability. From our London studio to the Abraham Moon mill in Yorkshire, who makes our wool checks and tweeds, we take pride in every print, fabric, and finish to create the finest collections. We spend untold hours pouring over every detail – which means you never need to think twice about that dress, suit or coat that just so happens to fit you to perfection.
Life is busy. Clothes are important. You rely on them to never let you down. So when it comes to friends' weddings, make-or-break meetings and relaxed weekends, we'll be there for you with our intelligent collections that offer outfit solutions for life's every moment. Always elegant, sophisticated and endlessly versatile.
Opening times
Monday

09:30 - 17:30

Tuesday

09:30 - 17:30

Wednesday

09:30 - 17:30

Thursday

09:30 - 17:30

Friday

09:30 - 17:30

Saturday

09:30 - 17:30

Sunday

10:00 - 16:00