Posted 02 Mar 2022
Shop handmade in Shropshire, in Shrewsbury
With its inspiring scenery and vast rolling hills, Shropshire is a haven for artists, designers, and makers. Shrewsbury plays host to not only many of these artisans, but a host of independent businesses that collate and promote our local arts scene.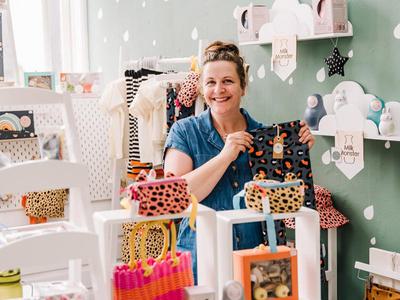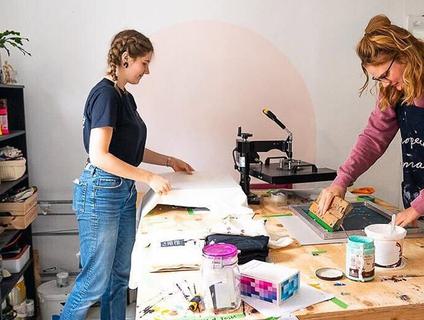 Hopefully Made
Hopefully Made is an independent studio come coffee shop. Set up by locals Hope and Becky, the duo run creative workshops for all ages, alongside their cafe and a small shop of beautiful hand screen printed gifts and clothing, where each item is hand-printed on the premises. Pictured above.

Turtle Doves

Turtle Doves is a British design company, specialising in using post-consumer textile waste to create beautiful new garments, homeware, and accessories. Each item is hand-sewn at their factory on the outskirts of Shrewsbury, and you can find all their products in their flagship shop on Shrewsbury's Wyle Cop.
The Collective

Located on the lower level of The Darwin Centre, Val B's Wax is home to a stunning collection of unique handcrafted jewellery, each piece created by Shrewsbury-based jeweller Valerie in her store in The Collective. Hand-painted in wax and sealed in glass, these unique and beautiful pieces form wearable works of art depicting abstract patterning, seascapes, and landscapes in a variety of colours.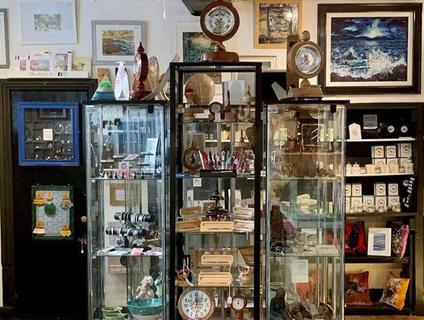 Shrewsbury Arts and Crafts
Located on Shrewsbury's Windsor Place, Shrewsbury Arts and Crafts offers a carefully curated collection of local handmade and unique artisan goods. Passionate about supporting the local arts, owner Jess handpicks each item ensuring her shop reflects the truly eclectic nature of Shrewsbury and Shropshire. Pictured above.
The Parade Shops
Located in Shrewsbury's Parade Shops, Oscar and Willow Millinery are an award-winning hat designers and milliners. Designer Fleur Curtis hand makes each hat and headpiece in her studio on the lower level of the shopping centre.
Number 61
Number 61 boasts a curated selection of products from many of Shropshire's top artists and makers. Here you can explore an Alladin's cave of handmade items in silver, gold, paper, wood, glass, textile, metal, semi-precious stones, ceramics, and more!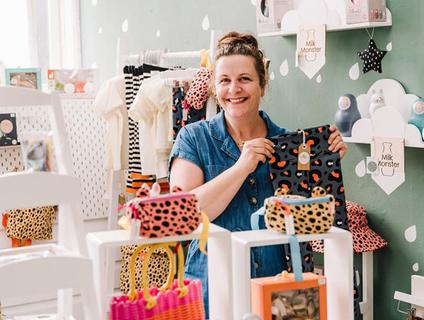 Shrewsbury Market Hall
Shrewsbury's award-winning Market Hall is a haven for Shropshire's designers, makers, and crafters! Artists Karen Duffy and Rose Read both have studios on the gallery level, from where they create their eye-catching artworks. On the same level you can find Romy Design, where artist Alison works in a variety of materials creating homeware, accessories, artworks, and more. Sarah, of Polly Pea, uses organic fabrics decorated with exclusive or semi-exclusive designs to create beautifully hand-sewn children's clothing and accessories. Birgitta, of Studio Yi, creates beautiful handmade bespoke gifts with glass and textiles, as well as running courses on weaving, felt making, stained glass, natural dyeing, patchwork, and quilting. Charika Creations is home to artist Charika Manning who creates beautiful gifts ranging from cushions, bunting, and children's toys to seasonal decorations, wedding accessories, and more.

Visual Art Network

Shropshire's Visual Art Network opened the doors of its Shrewsbury gallery in 2018. Located on the middle level of the Darwin Centre, this curated space showcases members' artworks, from oil paintings to ceramics, textiles, and more.
And don't forget Shrewsbury's markets...
Every month you can shop the best of Shrewsbury and Shropshire's makers and designers at the Made in Shropshire Market and Farmers Market.

Original Shrewsbury is run on behalf of Shrewsbury BID and its members, it is therefore not a complete representation of all businesses operating within Shrewsbury.
Not all businesses can be included in every feature, however if you believe you should have been included please contact content@originalshrewsbury.co.uk
If you would like your business to be involved with the Original Shrewsbury platform you can read more about voluntary membership here.