The Parade Shops
St. Marys Place, Shrewsbury, SY1 1DL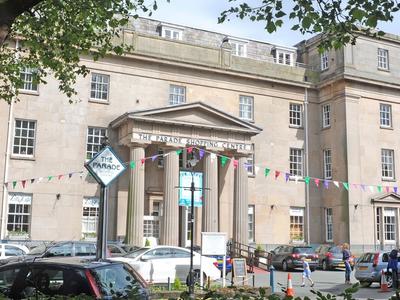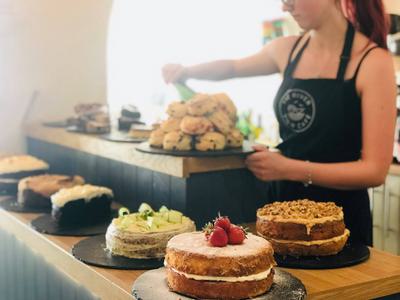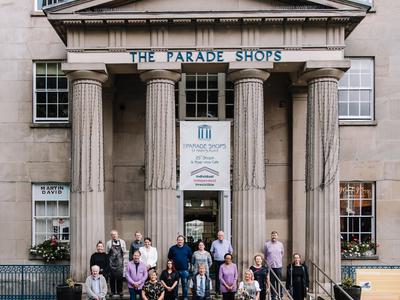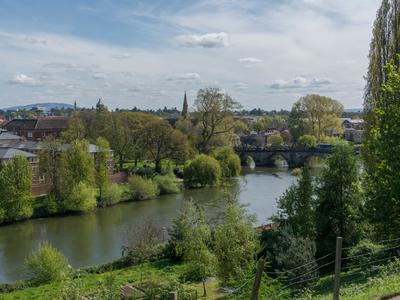 Information
Set in the heart of Shrewsbury, behind St. Mary's Church, The Parade Shops provides a truly unique shopping experience. Inside you'll find 26 independent and irresistible businesses spread across two floors in a Grade II Georgian building.
The Parade Shops was converted from the Royal Salop Infirmary, where Charles Darwin's father once practised as a doctor, after it faced demolition in 1979 and was turned into shops and apartments, with stunning views over the River Severn and beyond.
Fashion
Martin David Menswear is our one-stop shop for quality menswear. With bespoke tailoring, and shirt making, as well as offering a full range of formal and casual wear off the peg from leading European brands, it provides everything a man needs to dress well.
Oscar and Willow Millinery is an award-winning hat designer and milliner. Owner, Fleur Curtis creates ready-to-wear, luxury headwear and bespoke pieces. Fleur's creations are handcrafted using both traditional and modern millinery techniques, paying great attention to detail and using luxurious quality materials.
Food Haven
The River View Café earns its name with incredible views across the town. They use local, seasonal products wherever possible, with vegan and gluten-free options on offer. There is indoor and outdoor seating. This welcoming café offers delicious home-cooked food, served with a smile and always at a great price.
Shrewsbury's largest oriental food shop, Setonaikai, is also based at The Parade Shops. They stock food products from across Asia, the Middle East and beyond. The husband and wife team, Mark and Misako provide authentic ingredients, cookware and gifts.

Health & Beauty
Solstice Piercing Studio is a private luxury body piercing studio run by Charlotte, who has 8 years of experience as a professional piercer and has worked in studios across the Midlands and Manchester. Solstice Piercing Studio only uses verifiable high-quality jewellery from the best manufacturers across the world.
Vogue Hair and Beauty is a unisex salon that has been part of the Parade Shops since it first opened. They offer a full range of beauty services, including hair, nails, eyelash and eyebrow tinting, waxing, ear piercing and more. Head for a treatment and enjoy the incredible views of the river.
Meraki Hair and Beauty is nestled downstairs, offering all aspects of hair and beauty in their contemporary, chic salon. The hair stylists have extensive L'Oréal education and the beauty team specialise in brows, lashes, tanning, waxing and nails.
The Parade Shops is home to Britain's Best Barber of 2019 - Dale Hince of Hinces Barbershop and his award-winning team, including Britain's Best Barber 2021, Rhys Whitehouse. His modern-day barber approach has earned him a loyal client base.
Minola Moss Lash Boutique provides the ultimate luxury lash experience. Using the award-winning Flawless Lashes By Loreta products. Minola is an ambassador and advanced lash artist for the leading lash academy.
Claire Seale, owner of The Beautique Parlour, has been qualified in nail extension treatments since 2003. She offers Gel Nail Extensions, Gel polish and a spray tanning service.
Megalash offers a full range of different looks with eyelash extensions in Classic, Russian Volume and Hybrid styles, in a high-quality salon setting.
Clare Spalding, at Forever Young, provides medical aesthetic treatments using cutting-edge products and technology. Forever Young is managed by a fully qualified nurse practitioner and prescriber in a safe environment.
Lily M Skincare is your go-to for sustainable, natural skincare. Nisa handmakes each item with natural, organic, vegan and sustainable ingredients, with no added SLS or Parabens - perfect for even the most delicate skin.
Severn Leaves is a CBD dispensary with a broad offering of CBD-based products, including vapes, pre-rolls and infused food items.
Specialist
Ewe & Ply is a wool shop specialising in natural fibres, ethically produced yarns and notions, with old-fashioned service at heart! They sell all manner of wonderful yarns, handmade goods, books and all other bits and pieces a knitter or crocheter could desire.
Petal and The Bee is a treasure trove of country-style home decor, gifts and floral design. Carrie, owner of Petal and The Bee handpicks each item and is proud to have been featured in House and Garden magazine, and most recently in Glamour Magazine.
Bill Leighton Photography captures high-quality portraits at their studio on the ground floor. They cover everything from baby portraits to modern style family portraits, and cutting-edge photography.
Nimble Thimble can alter or repair just about anything, including dress alterations, evening wear, bridal wear, making or altering curtains and soft furnishings.
Barry Phillips Photography is a new addition to the Parade Shops. He specialises in Product Photography creating imagery that brings brands to life wherever they sell. He provides bold, colourful, stand-out premium product photography for e-commerce, shot in his studio or on location.
Salop Technology has over 15 years of experience in I.T. solutions and computer repairs. They sell laptops and can build PC systems to order. They also offer custom-built gaming systems to suit your needs.
Fit 4 Purpose offers one-to-one personal training here in The Parade Shops. Owners John, who has been a personal trainer and group fitness instructor since 1999, and Alexia, who specialises in body sculpting via resistance training.
OGK Tattoos is a fully license modern and upmarket contemporary tattoo studio. Delivering exceptionally high-quality work and an atmosphere and design to reflect that. Specialising in traditional freehand lettering and calligraphy, along side contemporary illustrative works.
Collectables
An extensive knowledge of war medals and military history can be found at The Collector Centre. They offer a wide range of unusual and interesting collectors' items and historic artefacts, including medals, historic autographs and documents, ancient coins, Roman pottery and Chinese porcelain from as early as 1730.
Model kits of tanks and aircraft plus scenics and modelling tools are on offer at Think Tank. They have a large selection of ready-made diorama bases and also sell materials for scratch building.
Second Chapter Books is a small antiquarian and second-hand bookshop, and a paradise for bookworms! A variety of books are on offer, ranging from 50p to £900! You can discover some treasures, including sixties science fiction, local history, modern first editions and some truly unusual finds.
Archive is a treasure trove of original photographs from the analogue archives of former media photograph agency London Features International Ltd. Featuring over 250,000 historic images of some of the most iconic musicians, bands and celebrities of all time.
Opening times
Monday

09:00 - 17:15

Tuesday

09:00 - 17:15

Wednesday

09:00 - 17:15

Thursday

09:00 - 17:15

Friday

09:00 - 17:15

Saturday

09:00 - 17:15

Sunday

Closed
Facilities
Customer parking

Customer toilets