Interiors at Wyle Cop
82 Wyle Cop, Shrewsbury, SY1 1UT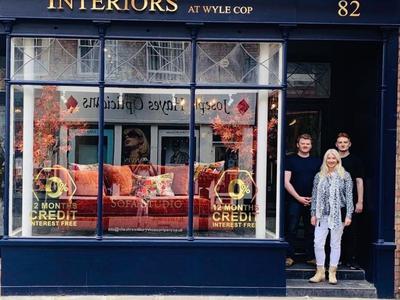 Information
The newest addition to Shrewsbury's historic Wyle Cop, Interiors at Wyle Cop is a new sofa studio filled with a fabulous range of bespoke luxurious sofas.
Established over 20 years ago, Interiors at St Marys Street has been a long-standing mecca for all things interiors in the heart of Shrewsbury. Business partners Sarah & Demi make up the design team and complement each other's styles perfectly. A second shop, Interiors at Wyle Cop opened in 2021.
Sarah has been an Interior Designer for 25 years and has worked on countless projects both in the UK and overseas. Opening her first shop in Bristol she went on to work in Cheshire, Mallorca, France and Malta but fell in love with the eclectic, unique nature of Shrewsbury. Her real passion lies in bespoke upholstery and creating luxury and unique pieces for her clients.
Demi is an experienced Interior Designer with a portfolio of both domestic & commercial interiors. After studying Interior Architecture at university in Cardiff she worked for an Interior Design practice followed by her role as an Interior Designer and home consultant at Laura Ashley covering South Wales, the Cotswolds and the Midlands. Following her passion for textiles & home decor Demi set up her own soft furnishings business making professional Roman blinds, cushions and lampshades before joining Sarah at Interiors at St Marys Street.
Opening times
Monday

10:00 - 17:00

Tuesday

10:00 - 17:00

Wednesday

10:00 - 17:00

Thursday

10:00 - 17:00

Friday

10:00 - 17:00

Saturday

10:00 - 17:00

Sunday

11:00 - 16:00