Marie Curie
4/5 Mardol, Shrewsbury, SY1 1PY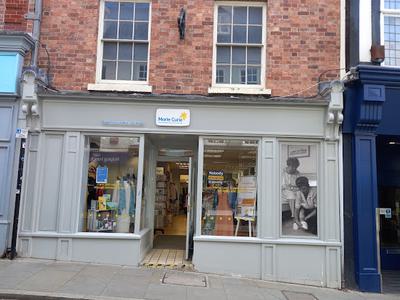 Information
Marie Curie is a UK charity which cares for terminally ill people and their families.
Marie Curie currently operates around 180 charity shops throughout the UK which helps to raise the funds needed for the charity to continue its vital work. Shops stock donated items including clothing, shoes, jewellery, books and toys.
Each shop is reliant on the generosity of local people who donate or shop there, and on a dedicated team of volunteers. Volunteers are involved in all aspects of the day-to-day running of Marie Curie shops, from sorting out donations to providing a warm, friendly service to customers.
The shop on Mardol is always happy to accept donations of high-quality, unwanted items.
Opening times
Monday

09:30 - 17:00

Tuesday

09:30 - 17:00

Wednesday

09:30 - 17:00

Thursday

09:30 - 17:00

Friday

09:30 - 17:00

Saturday

09:30 - 17:00

Sunday

Closed