The Sabrina Boat
Victoria Quay, Victoria Avenue, Shrewsbury, SY1 1HH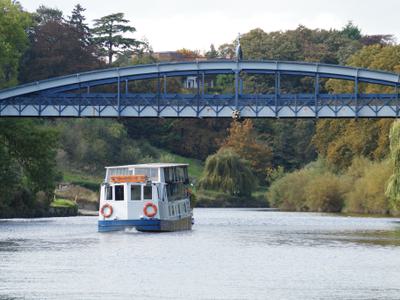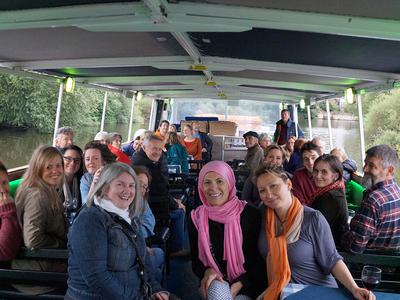 Information
Join the Sabrina Boat and take in the beauty of Shrewsbury as you take a daytime cruise past the stunning Quarry Park and the town's historic buildings. Alternatively enjoy one of the many themed evening cruises, from ghost trips to wine tastings and party nights. Sailing 7 days a week from March until the end of October.
Concession tickets are available for students and over 65s.
Daily Boat Trips
Sabrina boat runs 6 daily boat trips around the River Severn loop every day with live commentary, table service and on board town maps. The 45-minute trips run on the hour from 11-4pm (10am trip available in the Summer Holidays) from Victoria Quay, near the Welsh bridge. Dogs are welcome, toilets are onboard and there is disabled access to the boat.
Groups are welcome and we offer a number of packages which are a really good value and involve a number of other restaurants, attractions and partners in and around Shrewsbury and Shropshire.
Why not join us on a Sunday for our Sunday lunch cruise? Enjoy our 45-minute cruise at 1pm and then a two course Sunday lunch at The Loopy Shrew.
Afternoon Tea

Join us Wednesday – Saturday for a cruise & Afternoon Tea!
Enjoy a joint collaboration between the Sabrina Boat & Orchard Cafe offering a leisurely trip down our wonderful stretch of the River Severn, followed by a scrumptious afternoon tea at the Orchard Cafe, lovingly created by Sandra and the team.
Please note: All bookings must be pre-booked 48 hours in advance, and any dietary requirements and allergens notified.
Evening Cruises

Every Tuesday evening enjoy a 45-minute cruise with relaxing background music. Why not make a meal of it and go to one of our restaurant partners for a 2 or 3 course meal, depending on restaurant choice.
Themed Cruises

Throughout the season we offer a range of themed evenings. From Mamma Mia, 80's, 90s, Motown, Queen, Beatles themed cruises to gin tasting, wine tasting and a Summer BBQ. Arrival is 7pm, we set sail at 7.30pm until 10.30 and then we are a moored-up venue until 12am.
Private Hire

Sabrina is the perfect choice for your private party or celebration. Up to 3-hour cruise both up and downstream, 12am licence, 35-60 guests, food, and entertainment packages available.
Picnic Boat

Sail downstream to the English bridge or upstream past the show ground. Bring your own food and drink, includes skipper and maximum guests 10 people.
Opening times
Monday

10:00 - 17:00

Tuesday

10:00 - 17:00

Wednesday

10:00 - 17:00

Thursday

10:00 - 17:00

Friday

10:00 - 17:00

Saturday

10:00 - 17:00

Sunday

10:00 - 17:00