Shrewsbury Folk Festival
Next event date
Fri, 23rd Aug 2024 - 19:00 - 00:45
West Mid Showground, Shrewsbury, SY4 3HH, Shropshire, England, United Kingdom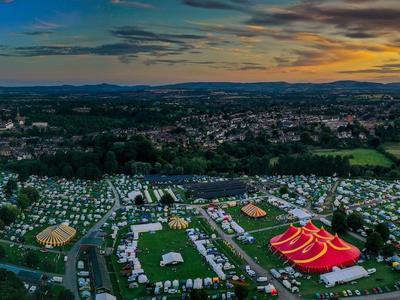 About this event
Shrewsbury Folk Festival has a reputation for delivering the very finest acts from the UK and around the world, always searching to find new authentic artists as well as providing a platform for established performers, and never forgetting to add some fun and diversity to our concerts. We try to bring quality in-depth, and we recognise the need to give our artists and audiences the best stages, in the best marquees, with the best sound and lighting possible.
When you arrive, all of your needs are catered for. A fantastic campsite where you are never more than a few moments from a venue and where you park your vehicles next to your tent or caravan. We have the best set of on-site caterers on the folk (or any other) scene, great bars, proper flushing toilets and loads of excellent showers.
On-site WiFi coverage is limited but free of charge, we want you to stay in touch, but we can?t offer unlimited download time. We have loads of events and entertainment for children and young people, workshops for everyone and brilliant sessions both organised and impromptu. We provide free buses into town, an excellent on-site shop, a craft fair, a huge free car park, dance displays, open mic, and friendly, helpful stewarding teams.
All event dates
Friday 23 August 2024, 19:00 - 0:45
Saturday 24 August 2024, 12:00 - 0:45
Sunday 25 August 2024, 12:00 - 0:45