Kids eat free at The Beefy Boys
39-40 High Street, Shrewsbury, SY1 1SX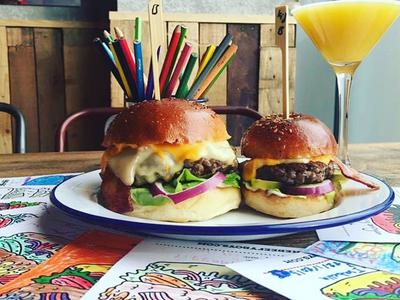 About this offer
Kids eat free at Shrewsbury's The Beefy Boys.
For every adult burger or fries + side ordered, you can order 1 free meal from the kids' menu. *3pm-6:30pm Monday-Friday
About The Beefy Boys
The Beefy Boys was founded in 2011 in Hereford by four backyard amateur cooks sharing a passion for local produce and dirty American-style burgers and BBQ.
After a hefty amount of online research and guinea pigging on friends and family, The Beefy Boys entered the UK's biggest BBQ competition Grillstock winning the coveted title of Best Burger in 2014.
After winning at Grillstock The Beefy Boys got to represent the UK at The World Food Championships in Las Vegas, where they competed against 50 of the best Burger chefs in the world for the title of World's Best Burger! The four lads from Hereford defied all the odds and managed to come 2nd overall with their Butty Bach Burger winning the final.
The Beefy Boys used their winnings in Vegas to turn The Beefy Boys into a regular street food pop-up culminating in the launch of their first restaurant The Beefy Boys Meat Boutique in The Old Market Hereford. In 2021 they opened their second restaurant on Shrewsbury's High Street.
The Beef
We use 100% Hereford Beef in our burgers, sourced from local butchers Neil Powell and local farmer Johnny Morris. Our Burgers are 100% meat! No egg, no fillers, no bread crumbs! Just two choice cuts of 21-day aged beef ground fresh every day and never frozen.
The Bun
Our buns are baked fresh every day by award-winning local baker Peter Cook. Made to a special recipe exclusively for us, our semi-brioche buns are made from locally sourced ingredients with a sourdough starter and are 100% natural no chemicals, preservatives, or raising agents!
The Sauces
We make all our sauces on-site, using both local ingredients and specially sourced items like fresh Jalapenos, Tomatillios, and Chipotles.