Posted 04 May 2023
Shrewsbury coach tours & group travel information
Brimming with history, events and things to do, Shrewsbury is one destination that's not to be missed when taking a group or coach tour in the UK!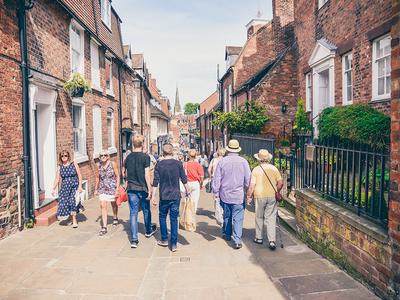 Located in the heart of Shrewsbury and filled with history at every turn, Shrewsbury's vibrant town centre is ready to welcome visitors with an array of exciting attractions and restaurants that make for a memorable day out. From theatre productions and prison tours to historic churches and riverside walks, there's something for everyone in this coach-friendly town making it an ideal destination.
Since 2012 Shrewsbury has retained a Coach Friendly Award by the Confederation of Passenger Transport (CPT). Shrewsbury partners have continued to work with CPT to improve the coach offer and facilities, which included adding additional coach drop-off points.
COACH PARKING
Coaches can park at Abbey Foregate car park (13 coach / HGV bays) and Frankwell car park (5 dedicated coach bays). Parking for coaches is free although charges may apply during busy events, such as the Flower Show.
Frankwell Coach Park - SY3 8HQ
Abbey Foregate SY2 6AH and turn left at the Car Park sign (postcode is Shropshire Wildlife Trust)
COACH DROP-OFF POINTS
There are coach drop-off points at Frankwell opposite St. Chad's Church at the main entrance to the Quarry Park, Shoplatch, and Dogpole.
Frankwell Coach Park - SY3 8HQ
St Chad's Terrace - SY1 1JX
Shoplatch - SY1 1EB
Dogpole - SY1 1HF
Shrewsbury is a medieval town with narrow streets, which could make access by large vehicles difficult. For advice on access, speak with the staff at your planned destination or contact the Parking and Transport Office on 01743 356628. The Sabrina Boat office will also be able to help with general coach enquiries and can be contacted on 01743 369741.