Posted 07 Dec 2019
Shrewsbury highlighted in The Guardian's 'Winter Weekenders'
The Guardian has featured Shrewsbury as one of 15 UK towns perfect for a pre-Christmas getaway.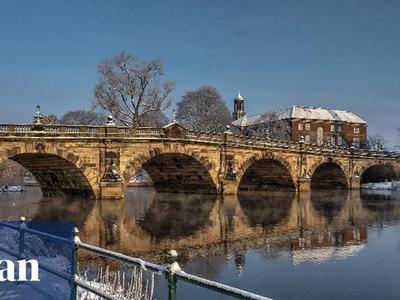 Shrewsbury is amongst great company, with towns stretching the breadth of the UK from Stirling to Corfe. Each town deemed perfect for a getaway ahead of the big day for, amongst other things, their brilliant Christmas shopping and festivities, cosy pubs and winter walks.
Discover what The Guardian had to say about Shrewsbury below.
Is Shrewsbury the Tokyo of Shropshire? The fact that it's home to a cat cafe, Paws Cafe, and gaming coffee shop Nerdy Coffee Co (board rather than computer, though) might suggest so. But in every other sense it's the antithesis of the hi-tech Japanese capital, full of old-world charm, ancient churches, and wonky half-timbered Tudor buildings. Tucked under their overhanging floors are interesting, arty shops, where panicking Christmas shoppers can rejoice at not being in some Bluewater hell. The street to target is sloping Wyle Cop, home to White Lotus, for bed linen, artwork and fashion; Tanners Wines, for prize-winning bottles to complement the turkey; and year-round festive shop Christmas Perks. More gems are tucked between the big brands of the High Street and Milk Street, along Butcher Row and Fish Street, where proceedings can be jollied along in the indecent number of pubs. If champagne's more you, Ten and Six is a fizz-focused, Alice in Wonderland-themed bar in a topsy-turvy building, where super-keen Christmas hosts could prep with a cocktail masterclass (£25pp).
Find peace at the Abbey, the red sandstone castle and the walkway along the town walls. On 11 Dec, Shrewsbury Rock Choir is performing at St Mary's Church, while a week later on 18 Dec, there's a festive night market at the Shrewsbury Market Hall, and Aladdin at the new Theatre Severn.
Shrewsbury is well-supplied with good places to eat and sleep, and the best of both are frequently under one roof. Drapers Hall (doubles from £80 B&B) has a great reputation for stylish bedrooms and smart, creative dining: wrap your chops round loin of red deer with chanterelle pithivier, wild mallard with physalis, or Wigmore brie tortellini in brown onion consommé. Darwin's Kitchen (doubles from £115 B&B), named after the town's most famous son, is another gourmet option, with a vegan/vegetarian options and a Wednesday jazz club.
Also worth trying are: the Boathouse, a foodie pub on the Severn with splendid river views; its sister venue, the Lion + Pheasant (doubles from £130 B&B) with smart, minimalist rooms; and the colourful, whimsical, medieval mishmash that is the Golden Cross Hotel (doubles from £85 B&B), which dates from 1428. For value and atmosphere, there's the St Nicholas (doubles from £69), a converted church that's a cafe by day and a grill restaurant at night, with a cocktail bar upstairs on Saturdays and five luxury bedrooms with beautiful stained glass windows.
Discover the 14 other locations profiled by The Guardian here.