Posted 09 Sept 2021
Shrewsbury's Mini Murals Trail
This summer Shrewsbury's artists have been out in force decorating the town centre's Openreach Boxes with colourful mini murals.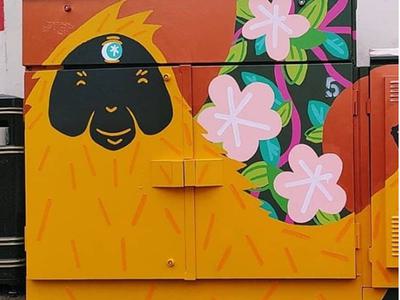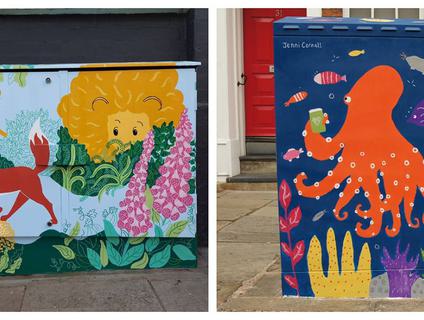 To date 13 boxes have been painted, each illustrating animals from across the globe inspired by life in Shrewsbury and our town's favourite son Charles Darwin. Amongst others, you can find Wyle Cop's Lion Hotel and Snooty Fox Jewellers brought to life, an hommage to Shrewsbury's dog walkers on St John's Hill and an Enlightened Orangutan hidden on Castle Gates - all waiting to be discovered!
Explore our interactive map and plan your trail around all 13 of Shrewsbury's mini murals. Please be aware the 14th box in the Square is currently unavailable.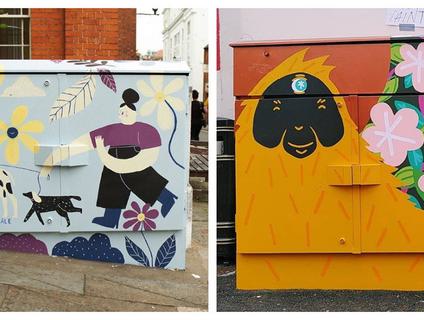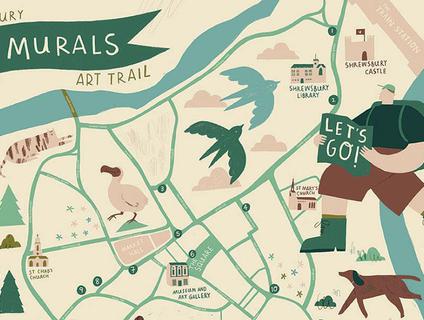 Pick up a map in Shrewsbury's town centre
With the help of local artist Charlotte Tisdale, the artist who created the dog walkers mini mural, we've created a new mini mural guide which you can pick up from Shrewsbury Museum and Art Gallery and many town centre businesses.
Thank you to the fantastic local artists who created the boxes:
1. Naomi Sampson, Smithfield Road
2. Gemma Gould, Castle Street
3. Saffron Russell, Butcher Row
4. Emma Williams, Roushill
5. Gisela Robinson, Mardol Head
6. Matt Sewell, Bellstone
7. Charlotte Tisdale, St John's Hill
8. Jenni Cornall, St John's Hill
9. Casi Worrall, Kingsland Bridge
10. Cherie Jerrard, Fish Street
11. Hannah Chumbley, Wyle Cop
12. Gisela Robinson, English Bridge
13. Amy Smith, Greyfriars Bridge