Boots
7-9 Pride Hill, Shrewsbury, SY1 1DD, United Kingdom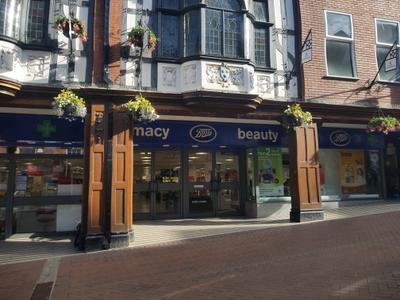 Information
Boots is the UK's most popular chemist. The store offers a range of beauty, fragrance, baby, diet, fitness, hair products, and pharmacy services.
Boots aims to help its customers look and feel better than they ever imagined, and its staff are committed to providing exceptional customer and patient care.
The company seeks to be the first choice for pharmacy and healthcare, offer innovative products 'only at Boots', and provide great value for money.
Opening times
Monday

08:30 - 17:30

Tuesday

08:30 - 17:30

Wednesday

08:30 - 17:30

Thursday

08:30 - 17:30

Friday

08:30 - 17:30

Saturday

08:30 - 17:30

Sunday

10:30 - 16:30