Brooklyn Craft
10 Shoplatch, Shrewsbury, SY1 1HL, United Kingdom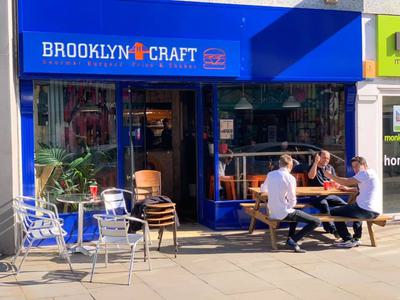 Information
Here at Brooklyn Craft, we are constantly striving to improve our service and quality in order to give our customers the very best experience inspired by authentic American cuisine. Beautifully handmade char-grilled burgers made fresh every day, using traditionally reared, grass-fed cows. 100% fully traceable prime fresh beef. Our chicken and wings are marinated in the store fresh every day.
We offer generous portions of burgers, fries and a variety of sides satisfying our customers' taste buds and appetites. Each of our burgers is carefully cooked, infused then stacked with freshly cut premium quality vegetables and pickles to present the distinctive taste of each of our unique burgers. Our fries gained remarkable popularity, particularly for our secret seasoning and generous portion size. We also serve a wide variety of milkshakes at Brooklyn Craft that quench our customers' thirst with a lasting impression of being arguably the best in town.
Brooklyn Craft's inner space is themed with modern contemporary design providing a friendly and welcoming vibe. In Brooklyn Craft, we do our best to cater to everybody by providing a vegetarian and vegan menu, and the ability to modify ingredients to your personal preferences. We are working on a new menu and will have more vegetarian and vegan options soon, including vegan milkshakes.
Opening times
Monday

16:00 - 22:00

Tuesday

16:00 - 22:00

Wednesday

16:00 - 22:00

Thursday

16:00 - 22:00

Friday

12:00 - 02:30

Saturday

12:00 - 02:30

Sunday

12:00 - 02:30