Joseph Hayes Opticians
2 Wyle Cop, Shrewsbury, SY1 1UT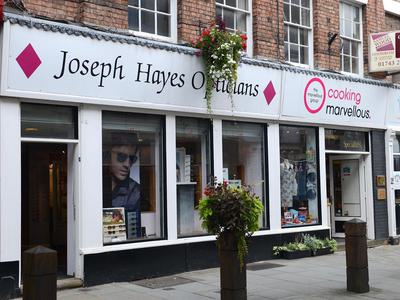 Information
After several years of working for a major high street optical chain, the owners of Joseph Hayes Opticians decided to escape from the "conveyor-belt" attitude towards optical care and create a workplace based on their own experience and values.
Joseph Hayes' aim is to provide top-quality service and professional and unbiased advice about all aspects of eyecare and eyewear.
The business only deals with highly reputable suppliers, so customers can have total confidence in the products it sells and the services it offers.
Opening times
Monday

09:00 - 17:15

Tuesday

09:00 - 17:15

Wednesday

09:00 - 17:15

Thursday

09:00 - 17:15

Friday

09:00 - 17:15

Saturday

09:00 - 17:15

Sunday

Closed