Oberon
65 Wyle Cop, Shrewsbury, SY1 1UX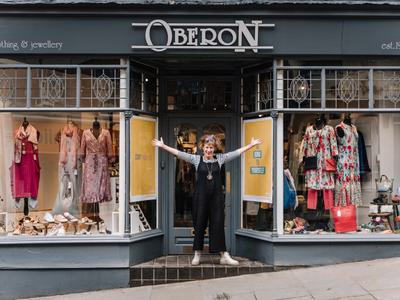 Information
Oberon of Shrewsbury offers fashion-forward and unique styling in ladies' clothing, jewellery and footwear.
Oberon Clothing, Jewellery & Accessories is a fantastic set of three boutique ladies' shops in Shrewsbury. Located on the town's leading independent shopping street, Wyle Cop, Oberon has been established since 1985 to provide fashion-forward styling in clothing, accessories, handbags, jewellery and footwear.
Catering from a range of ladies, from young professionals to yummy mummies and the discerning mature lady who knows her own style.
Oberon Jewellery specialises in Silver and Semi-precious stones, statement wears and on-trend pieces handpicked from all corners of the globe to suit any budget. Whether you're looking for a beautiful gift or that showstopping accessory for that serious 'WOW' factor, you're sure to find something at Oberon.
Opening times
Monday

09:30 - 17:30

Tuesday

09:30 - 17:30

Wednesday

09:30 - 17:30

Thursday

09:30 - 17:30

Friday

09:30 - 17:30

Saturday

09:30 - 18:00

Sunday

11:00 - 16:00