Shrewsbury Chiropody & Podiatry
3, Bellstone, Shrewsbury, SY1 1HU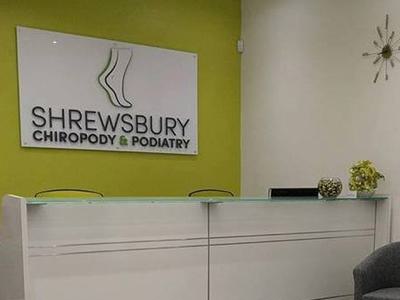 Information
Here at Shrewsbury Chiropody & Podiatry we provide Podiatry & Chiropody services covering all complaints concerning the lower limb and feet with the exception of bone surgery. Whether this is your first contact with us or you are an existing client, we will offer you a warm friendly service always putting your needs and requirements first.
Your mobility & general well-being can have a direct relationship to the health of your feet. When you consider that a person walks over 75,000 miles (or nearly two and a half times round the world) in the average lifetime, it's easy to understand why we develop foot problems. Some problems are inherited, and some develop from illnesses in middle age, or from the pressure of ill fitting shoes.
If you have any concerns regarding the health of your feet, don't hesitate to give us a call where our qualified HCPC registered Podiatrists (Chiropodists) are available for effective diagnosis and treatment of a wide range of lower limb conditions.
Opening times
Monday

08:00 - 17:00

Tuesday

08:00 - 17:00

Wednesday

08:00 - 17:00

Thursday

08:00 - 17:00

Friday

08:00 - 17:00

Saturday

08:00 - 12:00

Sunday

Closed