Soden Collection
80 Wyle Cop, Shrewsbury, SY1 1UT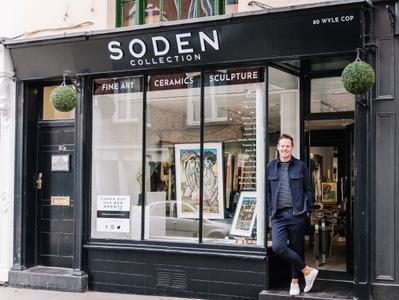 Information
The Soden Collection is an eclectic mix of Contemporary, Modern British art and contemporary sculpture located in the heart of the Town, on the bustling street of Wyle Cop.
As you walk through the two main gallery rooms, private viewing lounge and a sculpture garden you shall see an exciting mix of curated genres of paintings, sculptures and objects of virtue.
We feature a mixture of well-established local artwork alongside renowned British & international artists such as LS Lowry, Andy Warhol, Joan Miro and Terry Frost RA
The Soden Collection also has an extensive range of contemporary art by Artists & Sculptors such as Endre Röder, Halima Cassell MBE, Jacob Chandler, Ian Rayer-Smith, Keith Haring and Peter Hayes to name but a few!
Specialists in Modern & Contemporary Art. We offer an Art Advisory service for clients who wish to either start their collection of original art or add the their existing collection. We source art from all over the world and deal in everything from Ceramics to Banksy, Contemporary Bronze to Miró Lithographs.
Soden Print Shop
Home to an exciting & extensive portfolio of high-quality prints and a permanent feature of the Soden Collection.
Artists have always been fascinated by print, from Stone Age hand stencils to Warhol's Soup Cans, print has been a favoured medium for creative expression.
Not only do we want to highlight the art itself but also the artistry of printmaking and what can be achieved in this field.
A very important person in the world of print and indeed the Print Shop is Stanley Jones MBE.
Known as a master lithographer, Stanley Jones was working at the Curwen Studio, Chilford which was a major printing house. His involvement at the Curwen was pushing the boundaries of what could be done in print and this encouraged major artists to work with Stanley to create their own limited edition prints. The reputation of Stanley & Curwen was impeccable and known worldwide.
We are proud to have a large amount of work printed either by Stanley or under his watchful and trained eye.
You will be able to purchase work by Royal Academicians Mary Fedden, Paula Rego, John Bellany, Sir Kyffin Williams and Philip Sutton, as well artwork by esteemed artists such as, Wilf Roberts, Mark Hearld, Edwina Sandys, Anthony Micallef and many more.
We pride ourselves on offering exceptional quality, limited edition prints by some of the UK?s most celebrated artists.
Opening times
Monday

Closed

Tuesday

10:00 - 17:00

Wednesday

10:00 - 17:00

Thursday

10:00 - 17:00

Friday

10:00 - 17:00

Saturday

10:00 - 17:00

Sunday

Closed