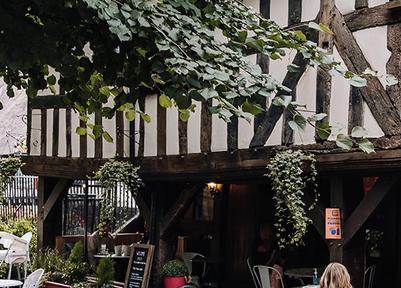 Tudor Timeline
The Tudor period was a prosperous time for Shrewsbury, with significant wealth and growth in the town. Many original Tudor timber framed buildings can still be found across the town centre.
1490
King Henry VII, along with his wife Elizabeth of York and eldest son Prince Arthur, visited Shrewsbury to celebrate the Feast of St George and attend Mass at the Collegiate Church of St Chad.
1522
Henry VIII ordered Cardinal Wolsey to conduct a survey of all England and draw up an inventory of all men aged 16 - 60. This showed Shrewsbury as a town in decline, with the local wool trade collapsed and an areas terrorised by bandits.
1536
Shrewsbury officially became a part of England, it had previously been considered border territory of the Welsh marches
1540
King Henry VIII enacts the Dissolution of the Monasteries, and the part of Shrewsbury Abbey that survived continued as a Parish Church. It's believed that after the formation of the Church of England, Henry VIII intended to make Shrewsbury a cathedral city but the citizens declined the offer.
1552
Shrewsbury School is built following King Henry VIII closing local Catholic schools and churches
1553
According to legend, St Alkmund's Church was damaged by the devil. Lightning struck the spire of the church, leaving the imprint of the Devil's claw upon the bell. It is said, to this day, that the Devil likes to sit upon the church and view his seat on the Stiperstones
1572
At the age of 18, Lord Philip Sidney was elected to Parliament as MP for Shrewsbury. An accomplished poet, courtier, scholar, and solider, Sidney was one of the most prominent figures of the Elizabethan age.
1576
An extension was added to the Bear Steps. The older part of the building has not been dated
1596
The Old Market Hall is built as Shrewsbury undergoes industrial changes, and newly established Guilds bring increased wealth to the town