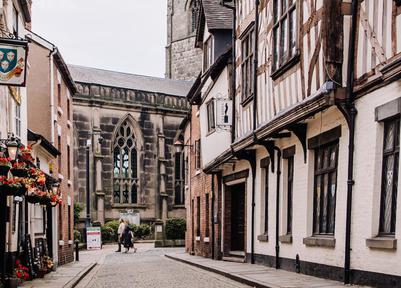 Bear Steps
Bursting with historic architecture and street names you want to say out loud.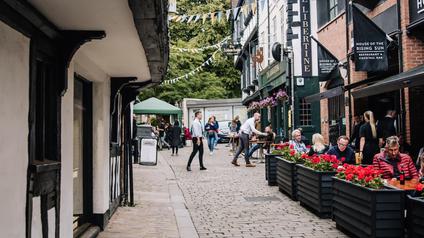 About Bear Steps
Connecting Pride Hill, the High Street, Wyle Cop and St Mary's, the Bear Steps area encompasses many of Shrewsbury's most historic streets, including Butcher Row, Fish Street and Grope Lane.
The area is home to many of Shrewsbury's independent eateries and shops. Explore vintage fashion, stylish homeware, pick up the perfect gift and more. Quench your thirst at traditional pubs or quirky cocktail bars, and eat around the world with food hailing from all corners of the globe.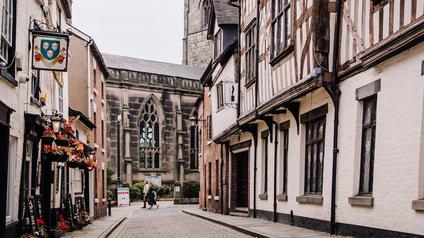 Notable history
Historically, the area was filled with traditional traders which gave the surrounding streets many of their names; Butcher Row, Fish Street, Grope Lane. Bear Steps itself is named for The Bear Inn Pub which sat on the corner of Fish Street and Grope Lane. Although local legend claims the area was historically home to one of Shrewsbury's bear pits.
At the centre of Bear Steps sits two of Shrewsbury's five churches; St Alkmund's and St Julian's. Founded in 902, St Alkmund's Church stands at the highest point in town, read more about it here. St Julian's tower dates from the 12th century, and the present nave was designed by Thomas Farnolls Pritchard who also designed the Iron Bridge at Telford.