Posted 01 Feb 2016
Face of Shrewsbury's Trade
Spanning 125 years, two collections of photographs have been brought together to capture the changing face of Shrewsbury's independent shops.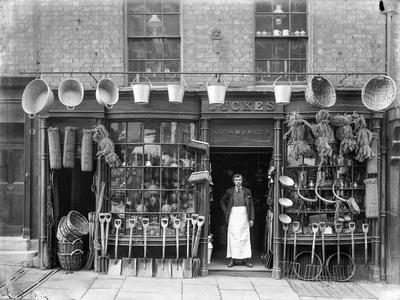 Two collections of photographs capture continuity and change in Shrewsbury's independent shops over 125 years. The one-off snapshots of Shrewsbury's shops and shopkeepers of 1888 were captured by Victorian businessman, Joseph Della Porta. The collection was captured on glass plates and features ironmongers, confectioners, hairdressers, and jewellers. Joseph Della Porta was born into an Italian family of shopkeepers and settled in Shrewsbury in 1848. He established a small shop on Princess Street, which sold hardware, furniture, bedding, china, boots, and shoes. J Della Porta and Son became a successful department store and was eventually bought by House of Fraser in 1982.
Adopting the style of Della Porta, the new collection captures the can't-be-copied character of Shrewsbury's independent shops. After discovering the 1888 photo series at Shropshire Archives, local photographer Paola Alessandri-Gray found the inspiration to snap the second collection over an 18 month period from 2012 to 2013.
The very old sits alongside the new below, showing the shops of Shrewsbury over 125 years. Tastes and fashions have changed but the photographs show that independent shops have remained strong on Shrewsbury's streets.
The full Della Porta collection of photographs is held at Shropshire Archives; please contact the Archives for more information, or visit the Face of Shrewsbury's trade website.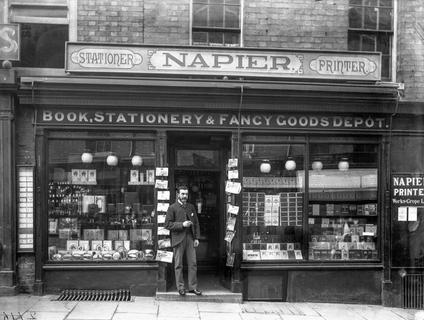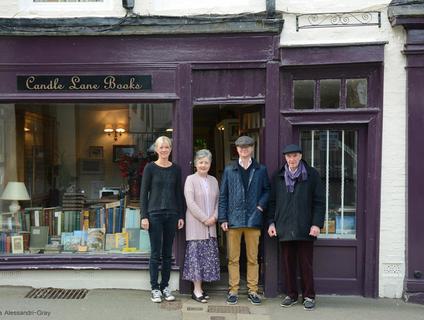 (Left) Napier Bookshop, Stationer and Printer at no. 2 Mardol, as photographed by Joseph Della Porta in 1888. (Right) Candle Lane Books at no. 28-29 Princess Street, photographed 125 years later by Paola Alessandri-Gray.
Moore Hairdresser and Fancy Repository at no. 80 Wyle Cop, goods on sale include fans, wigs, chess boards, shaving requisites, whips, and children's toys. Zest Hairdressers at no. 38 St John's Hill.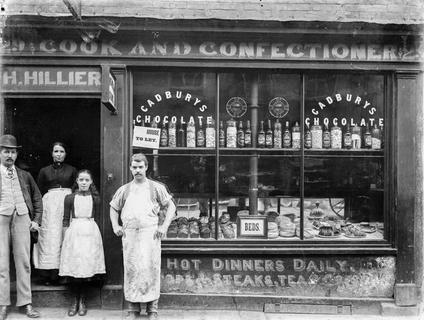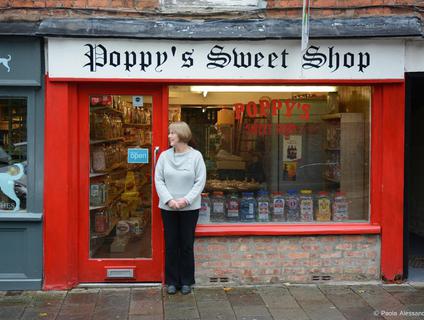 H. Hillier Cook and Confectioner which was located at no. 29 Mardol, alongside an image of Poppy's Sweet Shop at no. 18 Princess Stree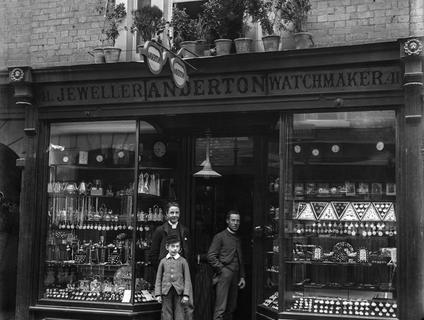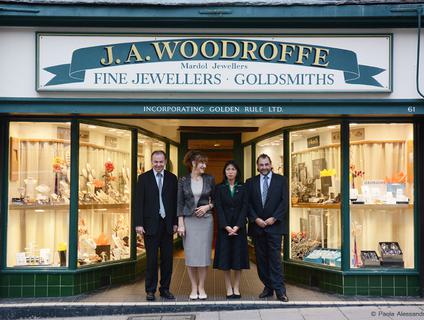 Anderton Jeweller and Watchmaker at no. 41 High Street. Note the meticulously arranged window displays, as well as the hanging pair of spectacles, indicating that they were also opticians. Alongside this image, staff from J.A. Woodroffe Jewellers stand in front of the shop at no. 61 Mardol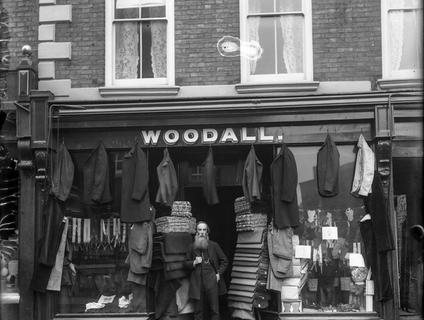 John Woodall, Taylor and Woollen Draper, located at no. 7 Mardol Head, and Carol Grant, situated in the Square.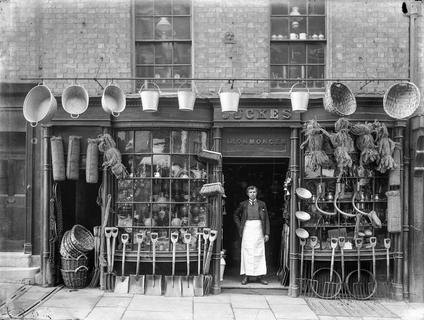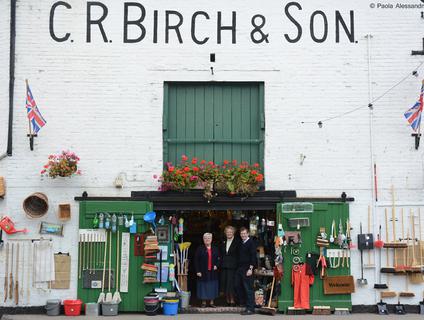 Samuel Jukes, Ironmonger, Tinsmith and Bell hanger at no. 3 Mardol, and C.R. Birch & Son, provider of hardware and ironmongery, which has traded on the same site in Roushill since 1909.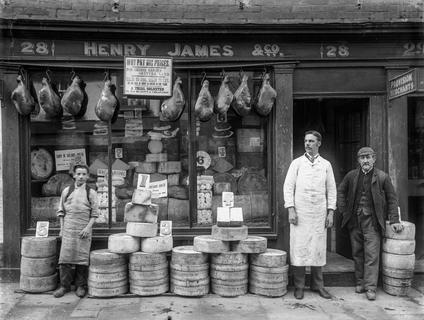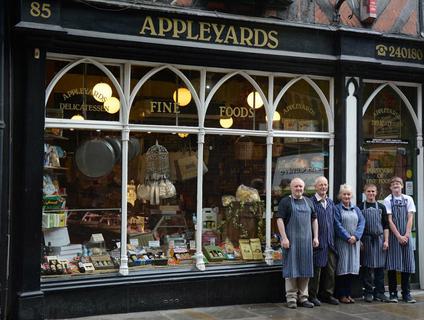 Henry James, Wholesale and Retail Provision Dealer of no. 28 Mardol and Appleyards Deli, situated on one of Shrewsbury's iconic streets at no. 85 Wyle Cop.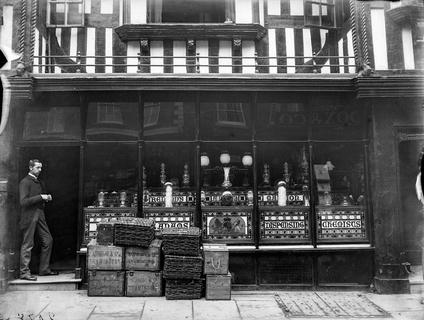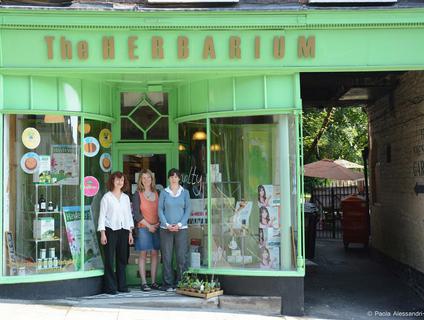 Adams Chemist, of no. 30 High Street alongside The Herbarium, medical herbalists stocking natural herbs, nutritional and cosmetic products at no. 21 Wyle Cop.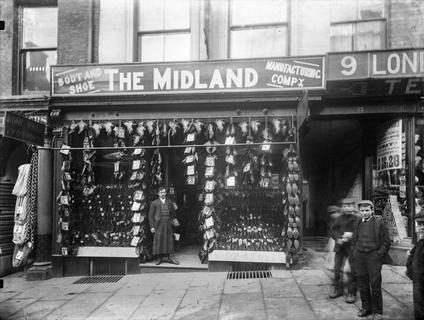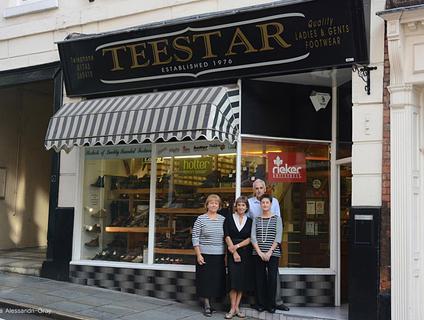 The Midland, Boot and Shoe Store at no. 8 Pride Hill and Teestar of no. 22 Dogpole.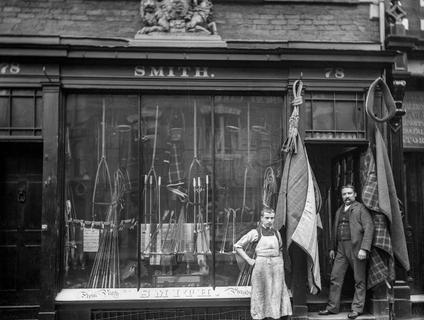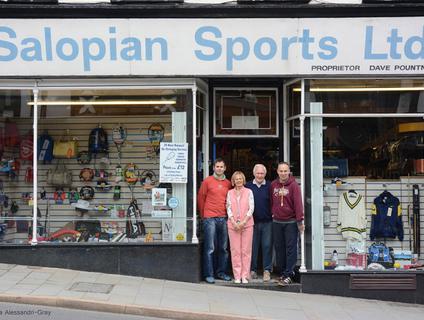 Mary or Margaret Ann Smith, Saddler at no. 78 Wyle Cop and Salopian Sports, also on Wyle Cop at no. 17.