Posted 17 Nov 2022
Things to do indoors in Shrewsbury
Whether you're sheltering from the rain or looking to cool down, heading indoors doesn't mean it's time for the fun to stop! There are plenty of indoor activities to keep the whole family entertained, from axe throwing to archery and board games - Shrewsbury has it all!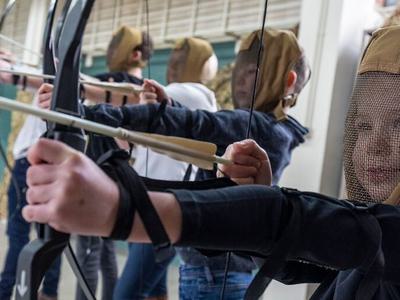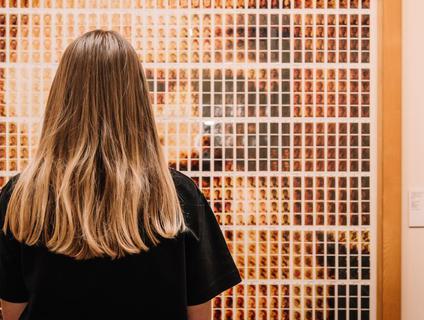 It may be raining outdoors but that doesn't mean you need to stay out of the water! Shrewsbury's Quarry Swimming and Fitness Centre is home to four heated pools, 3 diving boards, and a 51-metre flume, it's the perfect place for you to while away the hours.
Shrewsbury is home to over 1,000 years of history, and what better way to spend an afternoon than learning about the local area? Shrewsbury Museum and Art Gallery is home to permanent features exploring Shrewsbury and Shropshire's local flora, fauna and history, as well as an exciting schedule of seasonal exhibitions.
The Soldiers of Shropshire Museum is home to the spectacular collections of the Shropshire Regimental Museum Trust including pictures, uniforms, medals, weapons and other equipment from the 18th Century to the present day. Set in Shrewsbury's magnificent 11th Century sandstone Castle it's a destination not to be missed!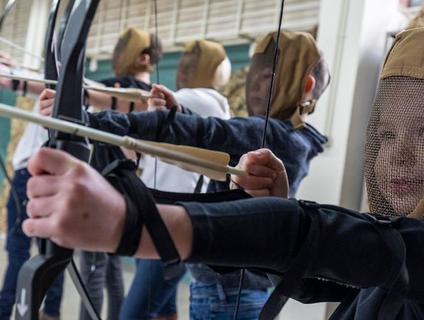 Shrewsbury Prison is your go-to for indoor entertainment! Dive into the history of this extraordinary building with one of their many guided and self-guided tours. For those more adventurous, Shrewsbury Prison also offers an exciting calendar of activities including prison escapes, escape rooms, nights behind bars and paranormal investigations. Not to forget their private booking activities, including angel and axe throwing, icombat laser games, kids archery and archery wars (pictured above).
Shrewsbury is home to three indoor malls and markets, playing host to a myriad of independent retailers and your national favourites - perfect for an afternoon of retail therapy. Award-winning Shrewsbury Market Hall and The Parade Shops offer a smorgasbord of independents, from fresh groceries to vintage clothing, homeware and more - all housed beneath their rooves. Located on Shrewsbury's Pride Hill, The Darwin Centre boasts all of your favourite nationals, as well as a large selection of indies all waiting to be explored.
Four churches give Shrewsbury its famous skyline: St Mary's, St Alkmund's, St Chad's and Shrewsbury Cathedral. Packed with significant stories and awesome architecture there's no better way to explore the heart of our town.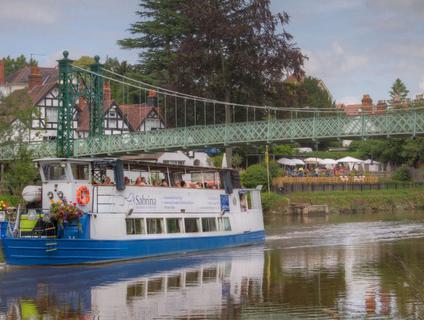 Even on the bleakest of days, Shrewsbury looks magnificent from the water. Take in the views on The Sabrina Boat, a triple deck, modern passenger boat offering cruises along the picturesque River Severn. Sailing from March to October, The Sabrina offers a number of ways to explore Shrewsbury by water including day and evening trips, as well as themed cruises.
Explore our indoor cafe scene! Shrewsbury is proud to boast a thriving scene of independent and national cafes, the perfect place to while away the hours with a tantalising hot drink. Make sure to check out Shropshire's first cat cafe Paws Cafe and Shrewsbury's dedicated gaming cafe Nerdy.
Kick back and relax with a show at Shrewsbury's dedicated performance space Theatre Severn. The top entertainment destination in Shropshire, Theatre Severn attracts top music, theatre and comedy performers from around the world. And is, according to comedian Jason Manford, "easily one of the top 5 theatres in the country"
Prefer the silver screen? Built in 1596, Shrewsbury's iconic Old Market Hall was lovingly restored and re-opened as a contemporary cinema and cafe bar in 2004. The intimate 81-seat cinema screens a diverse programme of independent films, classics, world cinema, documentaries, and popular releases.
Original Shrewsbury is run on behalf of Shrewsbury BID and its members, it is therefore not a complete representation of all businesses operating within Shrewsbury.
Not all businesses can be included in every feature, however if you believe you should have been included please contact content@originalshrewsbury.co.uk
If you would like your business to be involved with the Original Shrewsbury platform you can read more about voluntary membership here.