Barkworths Seafoods
Market Floor, Shrewsbury Market Hall, Shoplatch, Shrewsbury, SY1 1HQ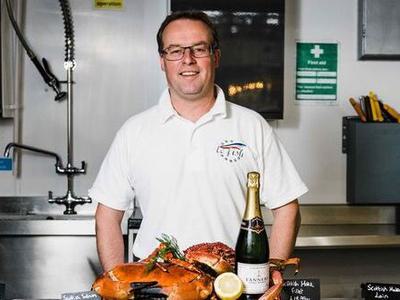 Information
Barkworths is Shropshires largest independent fishmongers and has been a trading name in Shrewsbury for nearly a century. At one time the company even owned its own trawlers! Present owner Ian Cornall bought the business in 1996 having previously worked his apprenticeship for eight years. A loyal customer saw the potential in Ian and kindly lent him the capital to buy the business.
At this time many fishmongers had already gone out of business or were struggling, including Barkworths. This was largely due to the rise of the supermarket giants and convenience shopping. It was time for a new sort of fishmongers to take a stand, and stand they did, beating any supermarket on quality, variety and outstanding customer service. New types of seafood, as well as high quality traditional British fish, were taking this fishmongers upmarket.
In more recent years Ian has developed the vision further - after introducing champagne and crab sandwiches as a small side-line, these quickly evolved into the wonderful Saint Pierre seafood bar opposite the main shop. The two continue to thrive and develop in Shrewsbury's increasingly popular indoor market area.
Opening times
Monday

Closed

Tuesday

08:00 - 16:00

Wednesday

08:00 - 16:00

Thursday

08:00 - 12:00

Friday

08:00 - 16:00

Saturday

08:00 - 16:00

Sunday

Closed