The Hive
5 Belmont, Shrewsbury, SY1 1TE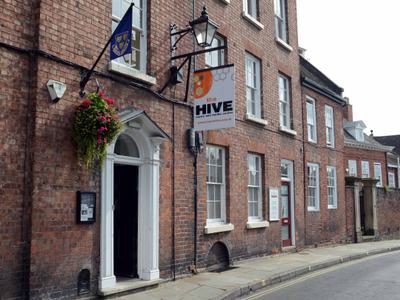 Information
The Hive is an arts and entertainment venue, as well as a charity working with vulnerable and disadvantaged young people.
Offering a varied programme of events, from cinema to live theatre, language classes to toddler groups, life drawing sessions to holiday workshops, open mics through to wrestling, plus world-class jazz and folk concerts and much more!
The Hive has built a reputation as one of Shropshire's best locations for quality entertainment and aims to offer cultural opportunities for everyone. However, the Hive is more than just an arts venue, being proud of its outreach work with children and young people. Working in close collaboration with partner agencies, the Hive sets up projects and programmes that give young people, particularly those who are vulnerable or at risk, the opportunity to participate in creative activities, such as music, dance, theatre, film-making, crafts and visual art.
Opening times
Monday

Closed

Tuesday

10:00 - 16:30

Wednesday

10:00 - 17:00

Thursday

09:00 - 16:30

Friday

10:00 - 17:00

Saturday

Closed

Sunday

Closed