The Loggerheads
1 Church Street, Shrewsbury, SY1 1UG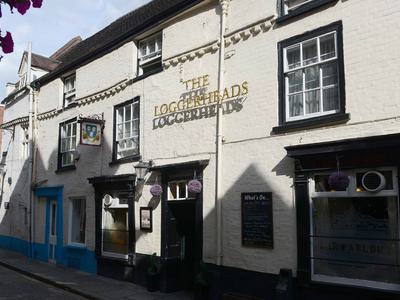 Information
The Loggerheads is a traditional beer house, selling good food and real ale.
Situated on the corner of St Mary's Street and Church Street, the building is thought to date back to 1665, and it has been recorded as a public house since 1780.
The Loggerheads name is a reference to the three leopard's faces' depicted on the Shrewsbury coat of arms.
The pub offers traditional games including darts, dominoes and the now less common shove ha'penny. The pub also hosts regular music nights.
Opening times
Monday

12:00 - 23:00

Tuesday

12:00 - 23:00

Wednesday

12:00 - 23:00

Thursday

12:00 - 23:00

Friday

12:00 - 23:00

Saturday

12:00 - 23:00

Sunday

12:00 - 23:00