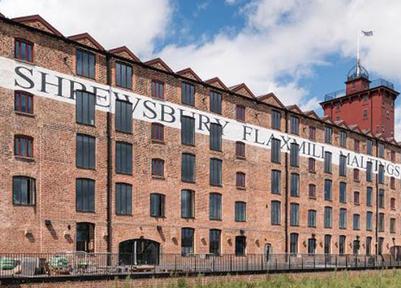 Georgian Timeline
During the Georgian period, trade had waned in Shrewsbury and the town was now a fashionable leisure destination. Local aristocracy and gentility began to rent and build property, and assembly rooms, coffeehouses and lecture halls sprung up across the town.
1739
Showman Robert Cadman attempted to slide from the spire of St Mary's Church, head first, using a rope and a grooved breastplate. His engraved obituary stands outside the west door.
1715
Shrewsbury Unitarian Church was destroyed by a mob of Jacobite supporters, but was rebuilt later that same year.
1744
English Bridge is rebuilt
1761 - 1774
Robert Clive (Clive of India) was Shrewsbury's MP from 1761 until his death in 1774. He is also Shrewsbury mayor from 1762-63.
1772
Lord Rowland Hill was born in Shrewsbury, August 11th 1772. He went on to become one of Britain's most celebrated military men.
1784
The Shrewsbury workhouse was built in Kingsland, the building would go on to become Shrewsbury School.
1788
Old St Chad's collapses. Thomas Telford had predicted the collapse of the building but had been ignored
1790
Welsh Bridge built to replace St George's Bridge
1792
St Chad's Church is rebuilt with a circular knave. The circular nave was not the choice of the board, but the architects drew up the designs due to a minuting error
1792
The Jesse Window (dated 1327-1353) installed at St Mary's Church after being taken from Old St Chad's
1793
Shrewsbury Gaol at the Dana was opened. Built by Thomas Telford it had 204 cells, 179 for men, 25 for women as well as a debtor's ward and infirmary
1797
Shrewsbury Flaxmill Maltings is completed, the world's first iron-framed building and considered "the grandfather of the skyscraper"
1809
Charles Darwin is born at Mount House, February 12 1809, and was later baptised at St Chad's
1812
New bells were installed at St Alkmund's Church. Unfortunately, they caused the tower to sway and were removed and hung in Honolulu Cathedral
1815
Following Napoleon's surrender at Waterloo, Shrewbsury's 53rd Regiment of Foot was sent to guard him in his exile. A locket containing a lock of the emperor's hair was presented to an officer of the 53rd, and can now be seen at The Soldiers of Shropshire Museum
1831
The Royal Salop Infirmary was built. The architect, E.H. Haycock, designed the building in 'Greek Revival' style
1835
Shrewsbury Museum and Art Gallery was established as the Museum of the Shropshire and North Wales Natural History and Antiquarian Society in Dogpole
1840
The last public flogging took place in The Square