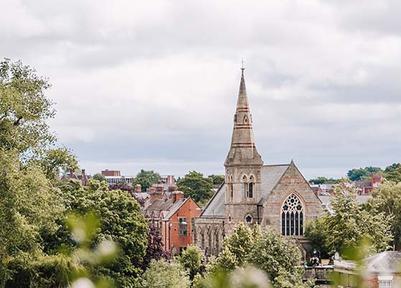 House of Windsor Timeline
Now, Shrewsbury is a town of innovation, holding on to its strong independent spirit. Innovation and renovation have taken place across the town centre, and in 2015 University Centre Shrewsbury welcomed its first students.
1922
Porthill Bridge was built
1926
English Bridge was rebuilt
1946
Percy Thrower becomes Parks Superintendent of Shrewsbury. He expected to stay only four or five years but remained in post for 28 years
1961
21 year old George Riley was the last man to be hung at Shrewsbury Prison. He was found guilty of the murder of his widowed neighbour Mrs Adeline Mary Smith, however many believed Riley to be innocent
1962
"Britain's most exciting new vocal and instrumental quartet" The Beatles performed at Shrewsbury's Music Hall, a few weeks after their debut single Love Me Do.
1965
The new Shrewsbury Market Hall opened, replacing the "Victorian monstrosity" that had previously stood on the site for 96 years
1979
Royal Salop Infirmary was saved from demolition and turned into the Parade Shopping Centre and flats
1981
Shrewsbury Museum and Art Gallery relocated to Rowley's House
1984
Shrewsbury was the location for the 1984 film 'A Christmas Carol' and Ebeneezer Scrooge's 'gravestone' is still visible in St Chad's graveyard today
1989
The Darwin Centre was built
1992
Shrewsbury is targeted by the IRA, with a bomb detonating at Shresbury Castle, damaging the regimental museum and the loss of many irreplaceable artefacts, and in The Darwin Centre, but was put out by the sprinkler system.
2004
The Old Market Hall re-opens as an independent cinema, after 5 years of renovations
2009
Theatre Severn opened
2013
HM Prison Shrewsbury is closed, later reopening as a popular tourist attraction
2014
Shrewsbury Museum and Art Gallery reopened in the Music Hall and Vaughan's Mansion
2015
University Centre Shrewsbury welcomed its first undergraduates